Costco maintaining low rotisserie chicken prices
Even with persistent inflation, Costco CFO Richard Galanti said the company is maintaining low prices on certain products – including its coveted rotisserie chicken – to drive membership and sales. 
Galanti, on the retailer's earnings call this week, said the membership warehouse has kept its rotisserie chicken price at $4.99, because it is "is an investment in low prices to drive membership – to drive the sales in a big way."
Rotisserie chicken is just one example of key categories that members specifically shop for where the company has invested in pricing. 
However, this comes as Costco posted revenue of $55.27 billion in the period, falling short of Wall Street forecasts. Ten analysts surveyed by Zacks expected $55.64 billion. 
Inflation remains a headwind, though the company acknowledged that it's been improving somewhat. 
During the fourth quarter, which ended in August, the company's estimated year-over-year price inflation was 8% for that prior fiscal year. During the first quarter, the estimate on a year-over-year basis is now down to 6% to 7%, according to Galanti. 
During the second quarter, "we estimate that the equivalent year-over-year inflation number has come down to 5% to 6% range and even a little lower than that toward the end of the quarter, according to the buyers," he added. 
Over the past year, the Federal Reserve has raised short-term rates at the fastest pace in four decades to tame the worst inflation seen since the early 1980s.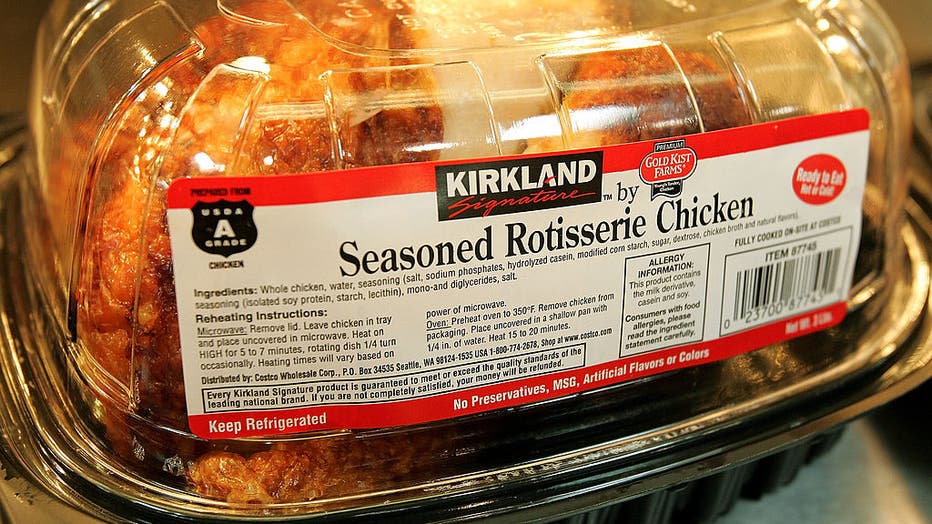 A Kirkland Signature premium brand roasted rotisserie chicken sits at a Costco store. (Photo by Tim Boyle/Getty Images)
The goal is to cool the economy by raising the cost of borrowing and slowing business and consumer spending. 
In January, consumer prices climbed 6.4% from a year earlier, down from 6.5% in December. That marked the seventh straight year-over-year slowdown. It's also below the peak of 9.1% in June.
Still, it's far above the Fed's 2% target. Fed officials next meet March 21 and 22, when they are expected to raise their key rate by a quarter-point to about 4.9%. 
Chairman Jerome Powell will appear on Capitol Hill next Tuesday for his annual monetary policy report to Congress.  
The Associated Press contributed to this report. Get updates on this story at Foxbusiness.com.