Couple sells everything to buy sailboat, sinks 2 days into trip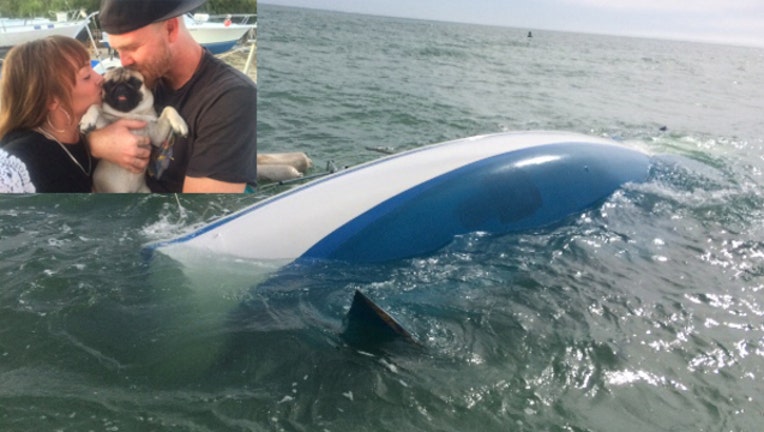 article
Nikki Walsh and Tanner Broadwell took a look around their life about a year ago and decided they wanted a change. So they sold everything they had and bought a sailboat, even though neither knew anything about sailing. Two days into their trip around the world, their dreams were sunk.
Walsh, 24, and Broadwell, 26, decided about a year ago that they were tired of working and wanted to do something different with their lives.
"How can we live our lives when we're working most of the day and you have to pay so much just to live?" Walsh said to the New York Post. "Most of the work you do goes to your home. There has to be another option.'
So they sold everything from their Colorado home, including their SUV, and bought a 49-year-old boat in Alabama. The plan was to live on the boat and sail the world.
They moved onto the 28-foot boat in the marina of Tarbon Springs on Florida's Gulf Coast and lived there for a few months with their two-year-old pug, Remy. While they were at the dock, they stocked up on food and supplies and thought they were ready for their planned trip to the Caribbean.
Nearly two days into their venture, the couple's boat capsized in a channel of water called John's Pass.
"We thought the channel was where we were going, but it wasn't," Walsh told the New York Post, telling the publication they were armed with GPS and paper navigation charts.
The post reports that local captains say the sandbars shift in John's Pass. That's where the boat capsized.
"We started freaking out because waves were coming, and it was tossing our boat back and forth," Walsh recalled.
Broadwell was on the motor while still holding Remy, their precious pug. 
Walsh admits that they were new to sailing and said that before they jumped ship, they grabbed some clothes, important papers, and food for Remy.
"I also grabbed Remy's food and just about everything he needed," said Walsh. "He doesn't deserve to go without his favorite toys."
Now, the couple is asking for help. They started a GoFundMe to raise the vessel, which they say will cost $6,700. They've already raised over $11,000. They also told the Post they plan to try again.
 "You only have one life. Why spend it doing what you don't love. Money isn't everything!"