Decomposing, moldy bodies found in Detroit funeral home; shut down by state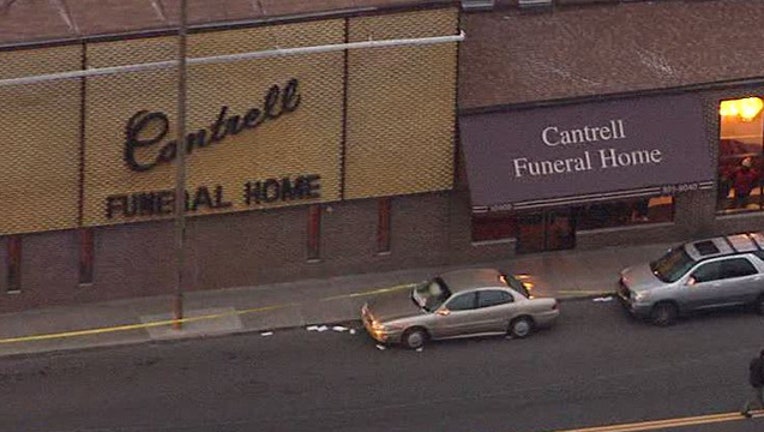 article
Authorities have shut down a Detroit funeral home after finding what they're calling "deplorable, unsanitary conditions" inside the facility.
Cantrell Funeral Home, located at 10400 Mack Avenue, has had its mortuary science establishment license suspended, according to the Department of Licensing and Regulatory Affairs, or LARA.
The department states that officials were first denied entry to conduct inspections. Once they got in, the inspector discovered an embalming room with dirty floors, stained protective gear, water-stained walls, and peeling and chipping paint.
On April 10, officials say they discovered the improper storage of embalmed bodies in an unrefrigerated garage that had been there since November and December of 2017. An inspector also found a body kept from January 9 until it was cremated on April 17.
Weeks later on April 25, two bodies in the funeral home's possession since January and February 2018 were found in an advanced stage of decomposition, covered in what they say appeared to be mold. Another body was found with unknown fluids in the facial area.
LARA also discovered several business violations, including operating with an expired prepaid funeral and cemetery sales registration. They determined the funeral home participated in gross negligence, deceit, fraud, incompetence, and dishonesty in the practice of mortuary science.
"Michigan residents trust funeral home directors, owners, and their establishments to follow the law, especially when dealing with the death of a loved one," CSCL Director Julia Dale said in a release. "We will continue to aggressively hold every funeral home in Michigan to the highest standards of public health and safety when providing final arrangements."
Cantrell Funeral Home surrendered to LARA custody of any bodies found at the funeral home, whether awaiting cremation or burial, as well as cremated remains awaiting to be delivered to customers. They will be managed by Preferred Removal Services, Inc., a company they say has proper refrigeration equipment and storage.
This is the same area where a 24-year-old was killed outside of Cantrell Funeral Home, heading to pay his last respects to Javon Parker, another man who was shot and killed in December 2017.