Department clears Michigan cops who cuffed girl at gunpoint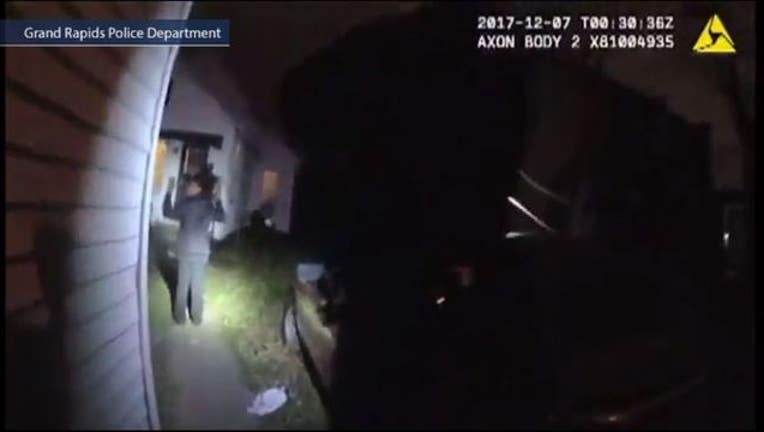 article
Police officers in western Michigan won't be disciplined for detaining an 11-year-old girl, her mother and aunt at gunpoint outside of their home while searching for another aunt suspected in a stabbing.
The Grand Rapids Police Department said in a news release Wednesday that an internal investigation of the incident found the officers didn't violate department policy.
Bodycam footage shows police handcuffing Honestie Hodges as an officer repeatedly tells the crying girl she's not being arrested. Police say the aunt suspected of stabbing another relative didn't end up being at the home.
Police Chief David Rahinksy says the footage left him "nauseated" but that the officers followed procedure.
Some area pastors expressed dismay that the officers were cleared, saying such investigations should be handled externally.
On Dec. 6, Grand Rapids Police Department officers were searching for Carrie Sue Manning, 41, who was accused of stabbing her younger sister. Police officers approached a home as Honestie, her mother Whitney and one of her aunts were walking out, FOX17 West Michigan reported.
Officers told FOX 17 they believed the suspect was hiding in the house. Body camera video shows Honestie screaming as officers point a gun toward her and place handcuffs on her wrists.
"The juvenile was treated the same way we would have treated any adult, and when you're dealing with an 11-year-old, it's inappropriate," Rahinsky said. "The screams of the 11-year-old, they go to your heart, you hear the mother yelling from the steps 'that's my child,' and that's our community's child."
Rahinsky said Honestie, her mom and aunt were handcuffed to ensure they weren't carrying a weapon. He added that changes are necessary for the future and an internal investigation is being conducted.