Bedrock asks Detroit City Council to delay $60M Hudson site tax break vote
DETROIT (FOX 2) - Bedrock has asked the Detroit City Council not to vote on a $60 million tax break for the Hudson site during Tuesday's meeting.
"Following Bedrock's request, the vote on the Hudson's Site Development has been removed from today's City Council agenda to be taken up at a later date," Bedrock said in a statement.
Billionaire Dan Gilbert is building a mixed-use project that will be the second-tallest building in Michigan. The tax break would be over 10 years.
Construction on the project is expected to be done in 2024. The 48-story building is expected to cost $1.4 billion in construction costs by the time it's completed.
City Council has already postponed the decision twice. 
A statement from Bedrock was released as the Council was hearing public comments about the potential tax break:
"In 2017, the City Council voted unanimously to give the critical initial approval to the matter in question. Since then, in addition to proceeding in good faith with the development of the Hudson's Site, Bedrock and the Rock Family of Companies have created thousands of more jobs in the City, brought abandoned building after building back to life, and committed an unprecedented $500 million to Detroit's neighborhoods—much of which has already been put to work paying off back taxes for thousands of Detroit families, funding critically needed home repairs for senior citizens and the disabled, supporting Detroit-based minority contractors, and providing legal aid for families facing eviction.
"As officials have emphasized, the abatement under review only freezes taxes that would otherwise go to the Downtown Development Authority—and could only be used for downtown development purposes. Nonetheless, it is clear more time is needed for this matter to work through the process.
"We have always worked in a spirit of partnership with the City of Detroit, and we remain confident that the approval provided in 2017 will be honored. We look forward to the continuation of this process and to seeing Council affirm its support for this transformational investment."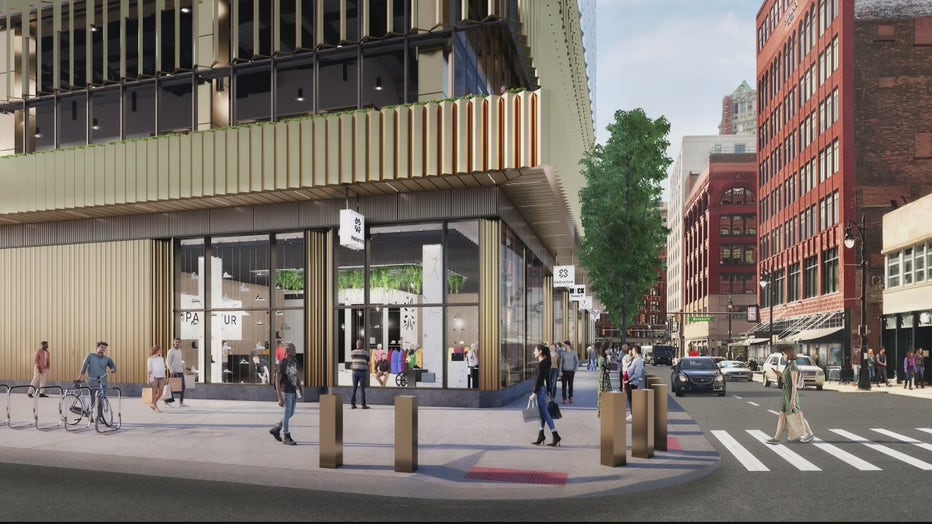 "The notion that somehow that this, a tax break on Hudson's would take money away from libraries or schools or neighborhood services - it's just not true," Mayor Mike Duggan said.
However, some Detroiters aren't happy with the potential tax break.
"I don't think any decision should be made without a report on how any of the decisions are going to affect our children," said Jerome Shell, with Black Lives Have Value.
Jai Kiser, with Detroit Eviction Defense, said she would support the break if the project included affordable housing.
"If he wants a tax break, tell him to build affordable housing, and we'll cheer him on. We'll do cartwheels and splits," Kiser said.