Detroit detective demoted after inflammatory Facebook post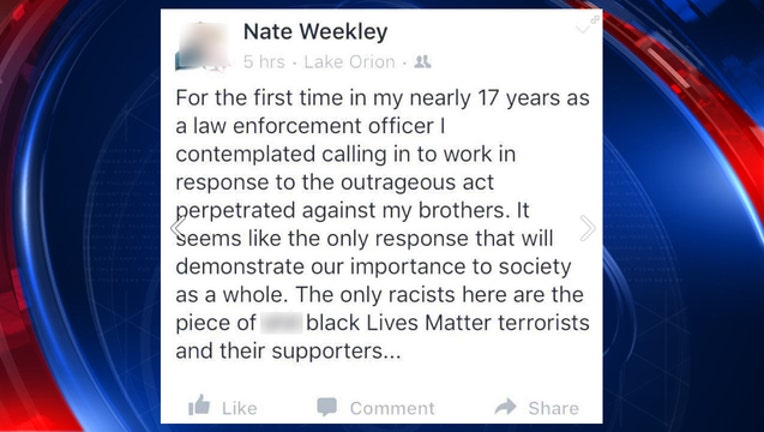 article
DETROIT (WJBK) - Detroit Police Chief James Craig said in a news conference Monday morning that a detective has been demoted after posting a message many found offensive to his Facebook page.
Detroit Police said the message was posted July 8 by DPD Detective Nate Weekley, the day after the deadly shooting in Dallas of five police officers.
"For the first time in my nearly 17 years as a law enforcement officer I contemplated calling in to work in response to the outrageous act perpetrated against my brothers," his Facebook post wrote. "It seems like the only response that will demonstrate our importance to society as a whole. The only racists here are the piece of [expletive] black Lives Matter terrorists and their supporters."
Craig says Weekley has been demoted from detective to officer. The National Action Network is continuing to call for Weekley to be fired. Craig says due process has to happen before that action would be considered.
"Detective Weekley has been reappointed from the rank of detective down to a police officer, and has been reassigned and we have opened an internal investigation into this matter," Craig says.
Nate Weekley is also the brother of a Detroit officer who was charged with involuntary manslaughter in the accidental shooting of a black girl during a raid years ago.
Unrelated to Weekley's comments, Chief Craig told us over the weekend that four people were arrested for issuing the threats against DPD officers, and that he intends to pursue criminal charges aggressively. One, in particular, made a comment on his Facebook calling the man responsible for the deaths of five officers in Dallas a hero.
A Detroit nightclub is also receiving backlash after inflammatory posts went out from their Twitter account discounting the Black Lives Matter movement. Several artists have canceled their performances with the club, Populux. Officials with the club have since said they were hacked.
The attack in Dallas began Thursday evening during protests over the police killings of Philando Castile, who was fatally shot near St. Paul, Minnesota, and Alton Sterling, who was shot in Baton Rouge, Louisiana, after being pinned to the pavement by two white officers.
The Dallas police chief says the suspect taunted authorities during two hours of negotiations, laughing at them and at one point asking how many officers he had shot.The chief and the county's most senior elected official also said Sunday that Micah Johnson had larger attack plans and possessed enough explosive material to inflict far greater harm.
Dallas Police Chief David Brown says Johnson, a black Army veteran, insisted on speaking with a black negotiator. The chief says he also wrote in blood on the wall of a parking garage where police cornered and later killed him.
The shootings marked the deadliest day for U.S. law enforcement since the Sept. 11, 2001, terrorist attacks. Five officers were fatally shot just a few blocks from where President John F. Kennedy was slain in 1963.
This is a developing story. Stay with FOX 2 for updates.
The Associated Press contributed to this report