Detroit School Board approves vaccine requirement for teachers and staff by Feb. 18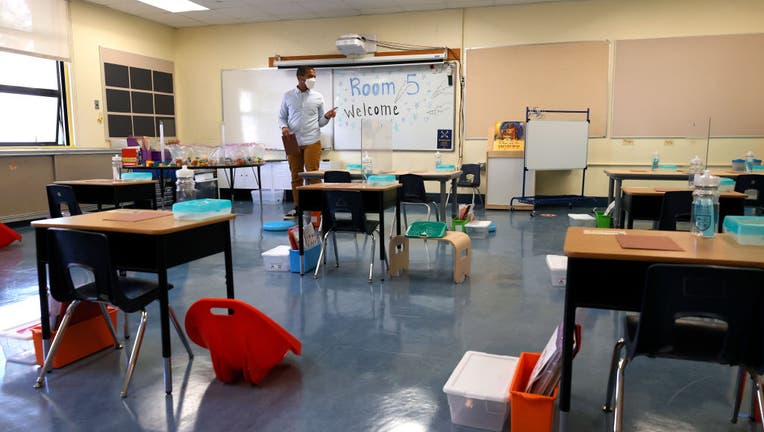 DETROIT - All Detroit school teachers and staff members must be fully vaccinated by Feb. 18, the district's school board decided Thursday.
The new mandate will affect a small percentage of staff who haven't been vaccinated, Detroit Public Schools Community District officials said. The new requirement will require employees to receive the vaccine and report their status to the district by Feb. 18.
Staff members can get medical and religious exemptions, but they must regularly test and wear a face covering, the Detroit Free Press reported. Staff members who don't follow the mandate risk dismissal.
During a Dec. 14 meeting when the school board first considered the new policy, Superintendent Nikolai Vitti said 150 positive cases in unvaccinated people forced 483 students and 99 staff members to quarantine this school year.
"This policy I think is a step toward using the tools that are now available to us in the pandemic to keep students in school," he said.
The DPSCD released a statement that said:
The district can legally require the vaccine as a term of employment without collective bargaining. This is similar to requiring employees to test weekly for COVID or submitting their vaccination status. With that said, the district has had a strong reputation of working with DFT over the last 5 years on a range of issues outside of the contract. We will continue to do that regarding this vaccine mandate. Legitimate exemptions for religion and medical conditions will be offered to employees and if applied then the district will pay for the employee's required weekly COVID testing, as it does now.
Through the Superintendent's recommendation, the Employee Vaccination Requirement was officially approved by the School Board. 80% of employees are already vaccinated. The other 20% will need to be fully vaccinated by February 18th or receive approval for a medical or religious exemption.
If employee exemptions are legitimate then the district will pay for their weekly COVID test. The district has implemented the vaccine mandate because it is the best strategy to not only keep employees, students, and their family safe but it creates the conditions for our students to learn uninterrupted by COVID infection and/or quarantining. So far this school year, 150 unvaccinated employees have become COVID positive which has led nearly 500 students and 100 employees to quarantine.
The district is exploring a student vaccine mandate by Fall, 2022. The district cannot consistently educate children with repeated disruption to teaching and learning. Employees also need the peace of mind to come to work daily without the fear of contracting COVID.
Dr. Nikolai Vitti, Superintendent, DPSCD
Below is the policy that has been approved by the School Board's policy committee and by the School Board on unanimous votes.