Egypt's Christians bury dead after Palm Sunday bombings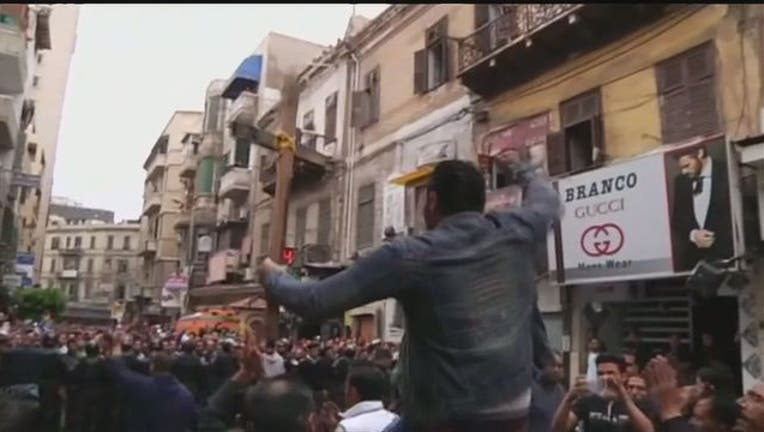 article
CAIRO (AP) - Egyptian Christians were burying their dead on Monday, a day after Islamic State suicide bombers killed at least 45 people in coordinated attacks targeting Palm Sunday services in two cities.
Women wailed as caskets marked with the word "martyr" were brought into the Mar Amina church in the coastal city of Alexandria, the footage broadcast on several Egyptian channels.
Coptic priests, boy scouts, and mourners carrying flowers joined a procession into the church, the pace set by a beat of snare drums.
At least 17 people were killed at St. Mark's Cathedral in Alexandria, the historic seat of Christendom in Egypt. Another suicide attack killed at least 28 people inside St. George's Church in the Nile Delta city of Tanta, the Health Ministry said, updating an earlier toll. IS claimed both bombings.
Rev. Danial Maher, of the Tanta church, lost his 23-year-old son, Beshoy, who was among six deacons killed in the attack. He recalled watching his son wearing white vestments and singing at the service. "He was like an angel," he said.
Pictures of Maher, sitting helplessly in blood-stained vestments after the attack, were widely circulated online. He buried his son late Sunday.
The attacks led President Abdel-Fattah el-Sissi to declare a state of emergency, amid fears that IS militants, who have been battling security forces in the Sinai Peninsula for years, are shifting their focus to Egypt's Coptic minority, one of the oldest Christian communities in the Middle East. In December, a massive church bombing killed 30 people in Cairo, and a series of killings in the Sinai have caused hundreds to flee to safer areas.
The state of emergency awaited approval by parliament, a foregone conclusion since the legislature is packed with el-Sissi's supporters, and the Cabinet declared that it had gone into effect at 1 p.m. (1100 GMT).
It will likely allow for arrests without warrants, swifter prosecution of suspects, and special, fast-track courts. Authorities have been waging a sweeping crackdown on dissent for years, however, so it was unclear if anything would change on the ground.
The Palm Sunday attacks, the single deadliest day for Christians in decades, rattled the community and prompted messages of support from abroad, including from Pope Francis, who is set to visit Egypt in the coming weeks, and President Donald Trump.
Israel meanwhile closed its Taba border crossing to Egypt after its anti-terrorism office warned of an "imminent" militant attack there, underlining fears of more violence. The closure comes hours before the start of the Passover holiday.
Southern Sinai, which has seen little of the violence plaguing the northern part of the peninsula, is a popular tourist destination.