Eminem releases Curtain Call 2 featuring tracks from past 13 years, plus unreleased song featuring 50 Cent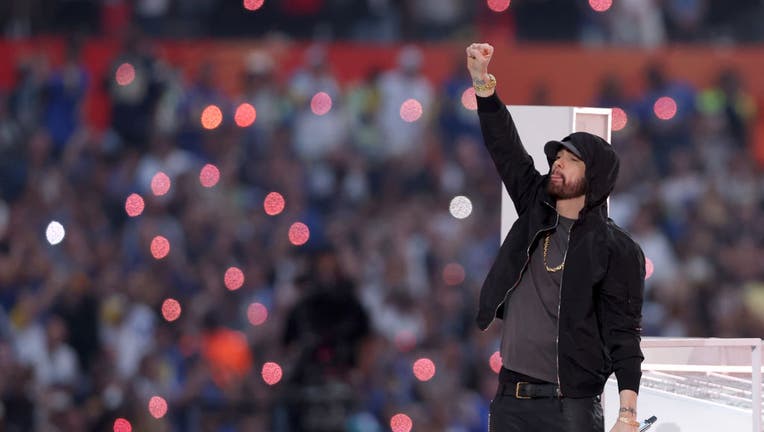 article
DETROIT (FOX 2) - Eminem dropped Curtain Call 2, an album highlighting his work over the past 13 years, this week.
The album follows 2005's "Curtain Call: Greatest Hits." This time around, the Detroit rapper features some of his top tracks dating back to 2009.
Most of the 34 tracks are from his albums released since Encoure – 2009's Relapse, 2010's Recovery, 2013's The Marshall Mathers LP 2, 2017's Revival, 2018's Kamikaze, and 2020's Music to Be Murdered By. The digital version includes an extra song – a remix of "Rap God."
Curtain Call 2 also includes "The King and I" featuring CeeLo Green, which was released earlier this summer for the movie Elvis, and "From the D 2 the LBC" featuring Snoop Dogg, which was released last month.
In addition to all the prior releases, Eminem slipped in an unreleased track from 2009 – "Is This Love ('09)" featuring 50 Cent.
Curtain Call 2 tracklist:
"Godzilla" (feat. Juice Wrld) (from Music to Be Murdered By)
"Lucky You" (feat. Joyner Lucas) (from Kamikaze)
"Lighters" (Bad Meets Evil feat. Bruno Mars) (from Hell: The Sequel)
"Gnat" (from Music to Be Murdered By)
"Cinderella Man" (from Recovery)
"Walk on Water" (feat. Beyoncé) (from Revival)
"Rap God" (from The Marshall Mathers LP 2)
"Love the Way You Lie" (feat. Rihanna) (from Recovery)
"Won't Back Down" (feat. Pink) (from Recovery)
"Higher" (from Music to Be Murdered By)
"Berzerk" (from The Marshall Mathers LP 2)
"Not Afraid" (from Recovery)
"From the D 2 the LBC" (feat. Snoop Dogg)
"Nowhere Fast" (feat. Kehlani) (from Revival)
"Fall" (from Kamikaze)
"Phenomenal" (from Southpaw)
"Fast Lane" (from Hell: The Sequel)
"You're Never Over" (from Recovery)
"3 a.m." (from Relapse)
"Space Bound" (from Recovery)
"Beautiful" (from Relapse)
"The Monster" (feat. Rihanna) (from The Marshall Mathers LP 2)
"Venom" (from Kamikaze)
"Crack a Bottle" (feat. Dr. Dre & 50 Cent) (from Relapse)
"Is This Love ('09)" (feat. 50 Cent)
"River" (feat. Ed Sheeran) (from Revival)
"Survival" (from The Marshall Mathers LP 2)
"Best Friend" (Yelawolf feat. Eminem) (from Love Story)
"Darkness" (from Music to Be Murdered By)
"Kings Never Die" (feat. Gwen Stefani) (from Southpaw)
"No Love" (feat. Lil Wayne) (from Recovery)
"Headlights" (feat. Nate Ruess) (from The Marshall Mathers LP2)
"The King and I" (feat. CeeLo Green) (from Elvis)
"Farewell" (from Music to Be Murdered By)
"Rap God" (Mr. Cii Remix) (from The Marshall Mathers LP 2)