Ex-con's security camera biz has more than an image problem
FOX 2 (WJBK) - Say hi to extra sensitive ex-con Zack Ellis. Zack runs a security camera business.
Some of his customers say Zack nabbed their deposits. Others tell me Zack does just enough to get his final payment.
Some say he finishes the job, but puts in the wrong equipment.
These people want to feel safer, but the guy they hired to install their security systems is making them feel anything but secure.
"We hired Zack to install a security system at our office in Center Line, and he took a thousand dollar deposit," said customer Matthew.
Here it is - Matthew's company paid Zack's company $1,000.
But Matthew says Zack never did the job.
"He said he would have it done in three days," Matthew said. "Three days went by. Nothing. A week went by. Nothing."
Matthew runs apartment complexes. He's used Zack's company, Kidon Security before, twice.
Wolchek: "The third job is when he just took the money and never came back?"
"Correct."
And he needed Zack to come back because one of the earlier systems all of a sudden, stopped working.
"He wouldn't answer any calls. He kept making excuses."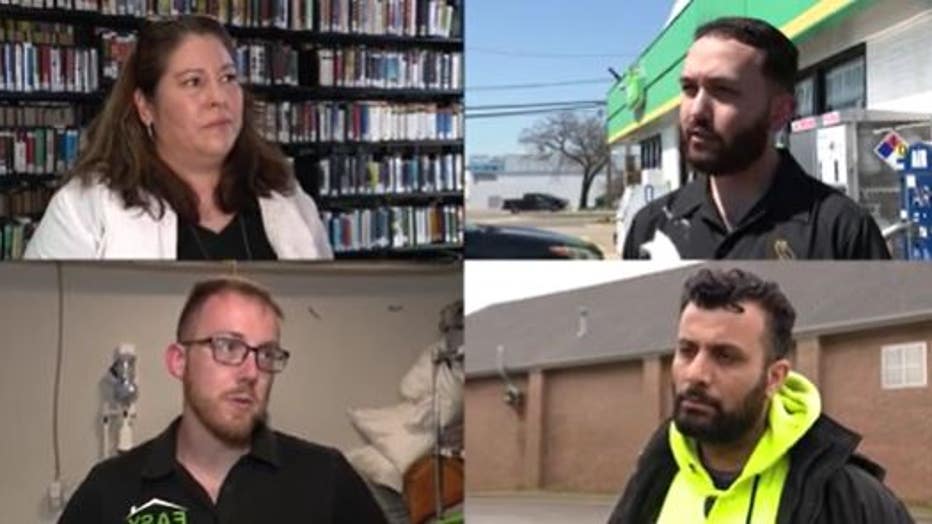 The third job was the charm for Marcel as well.
"Nobody should use him," Marcel said.
Marcel is an electrician. He subcontracted Zack a couple of times to put in systems at homes he was working on. But on the third instance, he says Zack did the wiring, demanded him to pay in full, and then disappeared.
Marcel showed a number of texts he says he sent over a period of two weeks. But days of messages and no response from Zack.
Marcel says the client got tired of waiting and fired him.
Wolchek: "You're out $4,500 and he kind of ruined your reputation."
"Yes sir," Marcel said.
Marcel is suing Zack. Here's Marcel's lawyer Dani Batti.
"He loses the client, he's out of money out of the pocket for the cameras, and he had to pay for the damages caused by Zack," Marcel said.
He's hoping the judge throws the book at Zack.
Speaking of books and lawsuits, Melissa Goins runs the Harrison Township Library - which is suing Zack as well.
"All the library funds are taxpayer money," she said. "We hired Zack to do a security system here at the library. It was an eight-camera system along with a DVR unit."
One of the cameras was supposed to be a people-counting camera, so they could keep track of how many visitors came in and out. But Melissa says the camera didn't count people or anything else.
"I brought another company in to look at the system and they immediately told me it was not a people-counting camera which was exactly why it wouldn't work," Melissa said.
And according to the lawsuit, the system Zack installed "violated the 2019 National Defense Authorization Act Section 889." You can't put some foreign-made cameras in government buildings, so they had to tear the entire system out.
At the Clinton Township BP station down the street from Kidon Security's headquarters, the house where Zack lives. Mohammed says Zack botched the camera job, so badly they had to have another company come in and fix it.
"We had to spend another thousand bucks just to get everything re-situated, where we have access to cameras and stuff," said Mohammed. "Because we lost all that."
Zack Ellis is his worst enemy because when he blows off his customers, they start investigating him. And they found out the guy who is putting in their cameras - and may have access as an administrator to their systems - has a long criminal record.
According to the Michigan State Police, Zack has seven felony convictions for retail fraud, larceny in a building, and uttering and publishing check fraud.
Time for Wolchek to check in on Zack. He's trying to sell a camera system at a house in Warren. But Rob already has cameras there, including two undercover camera men.
Undercover camera: "I should do my due diligence ... are you licensed?"
Zack Ellis: "Everything. Highest reviews in Michigan."
Zack's not licensed. He can only install systems that can't communicate with police or any other alarm monitoring system.  
It's time for Wolchek to monitor Zack.
Wolchek: "So you bidding a job here?"
Zack: "I am."
Wolchek: "Have you finished the other jobs you got money for?"
Zack: "Such as?"
Wolchek: "Well, a guy named Matthew out in Center Line?  He gave you a thousand dollars. Didn't that guy give you a thousand dollars?"
Zack: "He sure did, and I finished every job so far except for the office which was delayed."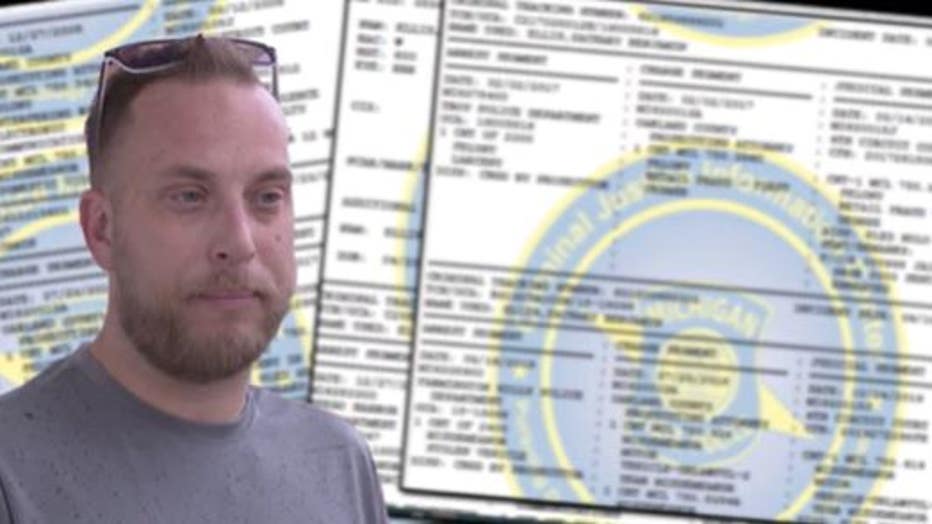 Wolchek: "Yeah, well what's the delay?"
Zack: "Parts didn't come in and he canceled the job before they came in."
Wolchek: "Matthew says he gave you a thousand dollars and you keep blowing him off."
Zack: "Absolutely not. No, I told him to stop talking to me inappropriately. He called me a drug addict. He was kind of rude. Every job before that was done exactly on time."
Except the last one where Zack allegedly took a thousand bucks and bailed.
Next up, Marcel.
Wolchek: "Do you owe Marcel money?"
Zack: "No."
Wolchek: "You don't owe Marcel money?"
Zack: "No. Marcel violated his contract, 100 percent."
Zack demands messages between him and Marcel, so Wolchek shows him the texts.
Zach: "Where's the call log?"
Wolchek: "Why did you stop talking to him?"
Zack: "Where's the call log on him?"
Wolchek: "Dude, answer me, the question."
Zack: "You're showing me the texts instead of hearing what he said to me on the phone before."
"What did he say to you that hurt your feelings so badly?"
Zack: "Whoa. See? He canceled the job. The holes were drilled wrong and the colors were ordered incorrectly."
Marcel says Zack did drill the holes wrong, but then never came back even though he'd been paid in full.
Zack sees his criminal record in Rob's hand even though I didn't mention it.
Zack: "You can bring up the criminal record. I don't care. I made a mistake in 2013 and I've changed my life and done the right thing."
Wolchek: "It doesn't seem like you've changed your life and you've made more than one mistake, dude."
Zack: "I've made no mistakes. Everything I've done is 100 percent legal. I've done nobody wrong."
Wolchek: "You pleaded guilty to larceny in a building in 2017."
Zack: "Let's go back to the $8,500 before you start twisting on somebody's history."
But Rob keeps going down the list.
Wolchek: "You got felony uttering and publishing. You got retail fraud. These are all in 2016, I thought you ..."
Zack: "Those were all dropped."
Not according to the Michigan State Police.
Zack denies cheating anyone, especially that mean, old Matthew.
Zack: "You're telling me I'm wrong with Matthew. Did you say you did two jobs for him? He called you a drug addict?. He was rude to you?  He left you hanging?"
So Zack Ellis calls Matthew to prove he's right - remember this is his idea.
Wolchek: "Matthew it's Rob Wolchek and I'm here with Zack. You gave him a thousand dollars and he didn't do the work, correct?"
Matthew: "Correct."
Zack: "Did I do all the other jobs as promised?"
Matthew "Uh, you did a couple jobs, but they aren't working."
Zack: "When did you tell me they weren't working?"
Matthew: "Ever since you took our money, you have not responded to any calls."
Zack isn't done with his proof, he demands we meet again so he can show me he's right and his complaining customers are wrong.
Zack: "So when can we meet?  Because before you air something I want to make sure you have all your info."
Wolchek: "I'll meet with you next week."
But guess what? Zack called my producer and canceled. So we gave him another week - and he canceled again.
Kidon Security? More like "He gone" security. Zack, you're in the Hhhhhhhall of Shame!!!
Wolchek got calls from three Kidon Security customers who say Zack did a good job, delivered on his promises, and that their systems are working fine.
Rob was also contacted by Matthew who said he discovered Zack overcharged him from the get-go. Matthew says he paid for four-terabyte recording units but Zack installed two-terabyte units.
Zack never paid him back the $1,000 deposit so Matthew has reversed the charges on his credit card.