Feds: Stabenow also received white powder letter with message relating to Nassar case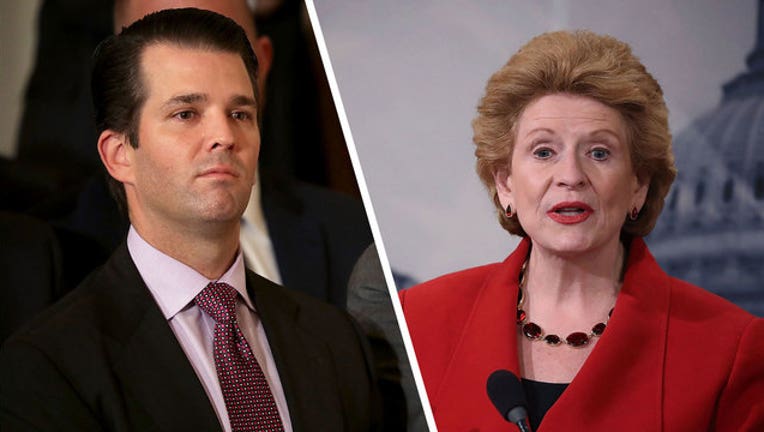 article
(WJBK) - A Massachusetts man was arrested Thursday and charged with sending letters with white powder to five people, including one to Donald Trump Jr. that landed his wife, Vanessa, in the hospital. Others included Debbie Stabenow, the Democratic U.S. senator from Michigan.
Daniel Frisiello, of Beverly, is accused of mailing five envelopes earlier this month with threatening messages and a white substance, which turned out to be nonhazardous. 
"These kind of hoaxes may not cause physical harm, but they scare the heck out of people," said Andrew Lelling, U.S. attorney for Massachusetts. 
Federal documents say Stabenow received one of the letters at her office in East Lansing. The letter was sent with this message:
"If you condone Margraves reaction to his daughter's testimony on Dr. Nassar, you are no better than he is. You deserve what is coming to you like he is thinking you're a [expletive] version of a vigilante, do us a favor go suck a [expletive] or better."
Dad of sex assault victims who went after Nassar: I am no hero
The message refers to Randy Margraves, a father of three survivors of the sexual abuse of Larry Nassar. Margraves attended the sentencing hearing when two of his daughters gave their statements -- and lunged at Nassar in attempts to attack him, after being denied alone time with the defendant by the judge. Stabenow said she wished court security would have been a little slower in restraining Margroves, as he wasn't able to reach Nassar before he was restrained. 
Hoax attacks using white powder play on fears that date to 2001, when letters containing deadly anthrax were mailed to news organizations and the offices of two U.S. senators. Those letters killed five people.
Frisiello was expected to appear in federal court in Worcester later Thursday. It could not immediately be determined if he had a lawyer.
Authorities say Frisiello sent five envelopes early last month that included threatening messages and white substances. The envelopes were postmarked in Boston. 
Other recipients were Antonio Sabato Jr., the Republican former underwear model and soap opera actor who is running for a U.S. House seat in California; Nicola Hanna, an interim U.S. attorney in California; and Michele Dauber, a Stanford University law professor who has promoted the effort to recall the judge who presided over the Brock Turner sexual assault case.
The letter to the president's son was opened by Vanessa Trump on Feb. 12. She called 911 and reported she was coughing and felt nauseous. She was hospitalized briefly.
The substance in the letter turned out to be cornstarch.
The envelope sent to Trump included a typed message calling him an "awful, awful person," according to court documents. 
"I am surprised that your father lets you speak on TV," the message said. "You make the family idiot, Eric, look smart." 
The Associated Press contributed to this report