Flint special investigator Todd Flood removed from state's prosecution team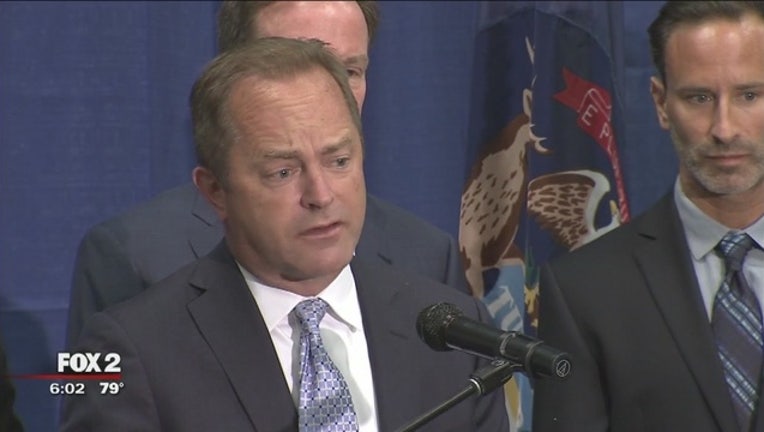 article
LANSING, Mich. (FOX 2) - Detroit attorney Todd Flood has been removed from the state's prosecution team after three years dealing with the Flint water crisis.  
Flood was hired by former GOP state attorney general Bill Schuette, but the new Democratic attorney general Dana Nessel's office told FOX 2 that Flood's contract was terminated April 16. This was despite Nessel telling reporters earlier this year she wanted to negotiate a new contract with him.
Nessel put another lawyer over Flood after she took office in January. But he was still on the team and had appeared at court hearings.
Fifteen people have been charged in an investigation of how Flint's water became contaminated with lead as well as a related outbreak of Legionnaires' disease. Seven have pleaded no-contest to misdemeanors. 
Former Michigan health director Nick Lyon has been ordered to trial for involuntary manslaughter in the Legionnaires' outbreak. The decision is being appealed.
"The decision to terminate Mr. Flood's contract reflects our ongoing commitment to execute the highest standards in the prosecution of the Flint Water Crisis. Our standards demand a full accounting of all evidence that may inform the People's investigation. The nature of Mr. Flood's prior involvement is not the focus of our team as we continue to pursue justice on behalf of the people of Flint and the State of Michigan. We appreciate Mr. Flood's contributions as we fully transitioned this case back to the People's Law Firm," a statement from the Michigan AG's Office said. 
"We now have a team of career prosecutors and investigators who bring decades of experience and an unshakeable commitment to the public interest. I am especially grateful for the continued leadership of Wayne County Prosecutor Kym Worthy, who is working jointly with our team to provide invaluable guidance and legal expertise. Moving forward, our team will aggressively pursue all evidence that may shed light on the enormous injury inflicted upon the people of Flint. A failure to meet this standard would undercut the cause of justice. As a publicly-accountable investigation, we are motivated solely by the public interest and the demands of justice.
Flood has recently had surgery to place a stint in his heart after doctors discovered 100% and 96% blockage in two arteries. 
It was Flood who charged two top state officials with manslaughter for their alleged misconduct in handling the Flint crisis.
In January 2019, Nessel asked Wayne County prosecutor Kym Worthy to take over as prosecutor of the Flint water crisis. 
The Associated Press contributed to this report