Ford, UMich study shows flying cars are both faster and greener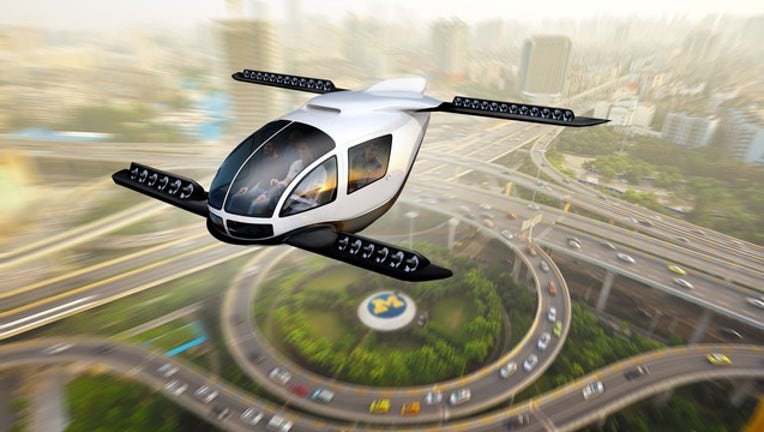 article
(FOX 2) - "Where we're going, we don't need roads."
Doc Brown said it in Back to the Future but now there's growing research from Ford and the University of Michigan backing the science fiction phenomenon of flying cars. This time, it's coming in the form of a sustainability assessment. As it turns out, the flying car could be a cleaner alternative to the traditional automobile.
"There are so many moving parts with VTOLs. Regulations, how do we insure their safety, the noise," said Noah Furbush, a graduate student in the engineering school. "It's very important to note though, this is the sustainable story. We want these things to be deployed sustainably and in the best way possible so it services the most people."
A VTOL, or electric vehicle takeoff and landing aircraft, is a pretty green mode of transportation. While the battery it runs on might be charged by a power plant that does produce greenhouse gas emissions, the craft itself wouldn't. Because of its potential as a cleaner alternative, two former summer interns at Ford followed up their research with the car company at the University of Michigan's Center for Sustainable Systems. Their goal was to understand if the flying car could be more energy-efficient than cars that drove on the ground.
Researchers pulled data from the National Highway Traffic Safety Administration and factored in several VTOL prototypes that have already been designed. Using that data, they built a physics-based model that computes energy use and greenhouse gas emissions. They found the farther a craft would have to travel the better it was for the environment.
In short, flying cars would be practical for the environment - as long as the commute is longer than 20 miles.
"There are two main factors that impact the environmental performance: distance and occupancy," said James Gawron, a graduate student with the Ross School of Business. "If you combine a long distance trip with a full car, they will outperform any other trip."
For trips over 20 miles, flying cars are better for the environment than gasoline cars. They use less energy. However, flying cars have to travel more than 60 miles before being more efficient than electric cars. The longer the trip, the more energy-efficient a flying car is.
That's because while they expend a lot of energy during take-off and landing, the cruising segments of their travel prove to be more efficient.
"Ultimately, when you lift off, you're working against gravity so you're expending more energy," said Akshat Kasliwal, lead author on the study. "What we're pushing for is limiting that intensity, but maximizing the energy efficiency of the cruising period."
While most trips aren't 60 miles long, researchers see this study as one that adds credence to the need for flying cars, saying they fill a niche for long commutes.
The status of flying cars is currently in the prototype stage. This is evident because initial models being constructed all look different.
"This electric aircraft is an emerging technology," Furbush said. "We know that because no two designs look alike."
The companies investing in this aerial future include Google, Uber as well as traditional auto manufacturers like Ford.
It's because of these early adapters however that researchers see their study filling a hole of important information. How energy-efficient are these VTOLs and where would their purpose best be suited?
Their answer looks to be the taxi trip from Ann Arbor to Detroit, or maybe the commute from the metro area to Cleveland.
"I think part of the reason we were motivated to conduct such an assessment is often times tech evolves without guidance," Kasliwal said. "We want to guide at the highest level like a technology in the prototype phase and really identify applications where it would be sustainable."
Furbush and Kasliwal were summer interns at Ford in 2018, where they worked on the sustainability element of air travel. They took their work back to Ann Arbor, using a Ford-University of Michigan Alliance grant to fund their work. The collaborative effort included individuals with engineering, business and sustainability backgrounds. The director of the center, Greg Keoleian said studies incorporate a wide array of fields because of how diverse the topic is - which is why the research pulled from several fields.
"This study had an interdisciplinary team involving sustainability science from our school, aerospace engineering and business," he said. "We needed all that."
Unsurprisingly, the study also noted that an aerial taxi service can reduce travel time by 80 percent. The distance from A to B is reduced by less congestion, fewer geographical barriers and because VTOLs can travel faster: about 150 mph.
"That time-saving part, it motivates the consumer to use these potential shared-aerial taxi services," Gawron said. "Car pools add onto a commute. There's less of an incentive for people to share. With this technology, because of the saving, if we see the consumer being motivated to use these services, we think they would."
The study, titled "Role of flying cars in sustainable mobility," was published April 9 in Nature Communications. Regarded as a top-tier academic journal, the researchers hope this validates the study and will allow stakeholders to lean on its evidence as a framework for putting VTOLs into practice.
"We agree this is a great starting point," Kasliwal said, "but because it's an evolving stage and things in technology change organically, our methodology is a framework. (Companies) can input their own values into our model. They can see what makes sense."
"We want to draw out a map for the sustainable deployment of this technology."