Ford's latest offer includes 20% pay raise, elimination of Tiers, no job losses with EV plants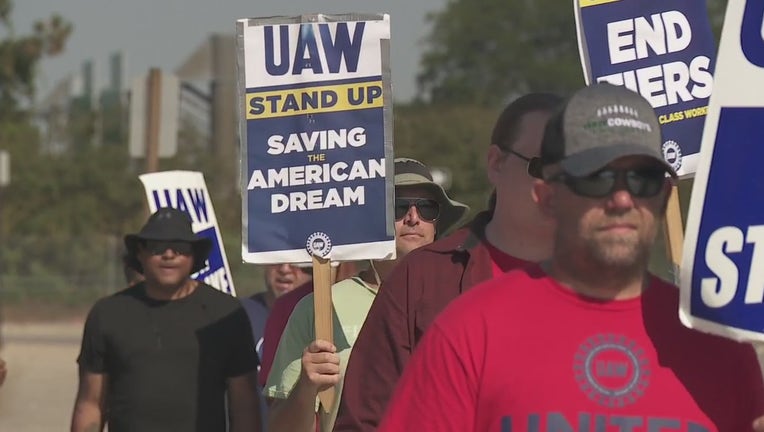 article
FOX 2 (WJBK) - Ford Motor Company's latest offer to the United Auto Workers includes what it claims are, record pay and benefits as well as layoff protection it said.
In a release from Ford Tuesday night, it promises job security, profit sharing and full ratification bonus in its seventh, and latest offer.
"Ford's latest offer provides our 57,000 UAW-represented employees with a record contract and a strong future," the release said. "Ford's offer includes unprecedented improvements in wages (putting employees among the top 25% of all U.S. jobs, hourly and salaried) and benefits, product commitments for every UAW factory and job security. At the same time, it preserves Ford's ability to invest and grow." 
A pay raise of more than 20 percent would be included in the offer with a double-digit increase after ratification and traditional COLA, with cost-of-living allowances for inflation.
All tiers would be eliminated while wage progression would be reduced by more than half the time it takes to earn top wage. Average new hires will earn six figures by the fourth year.
Job security would promise no losses due to electric vehicle battery plants, as well as a product commitment for every UAW plant in America.
Temporary employees would be included in profit sharing and full ratification bonus.
"There's no doubt our UAW workforce put us on their shoulders during the pandemic, and these same workers and their families were hit hard by inflation. We want to make sure our workers come out of these negotiations with two things – a record contract and a strong future," said Jim Farley, president and CEO, Ford Motor Company. "We've put an offer on the table that will be costly for the company, especially given our large American footprint and UAW workforce, but one that we believe still allows Ford to invest in the future."