Ford's Mustang Mach-E scores another accolade, named Electric Vehicle of the Year by auto magazine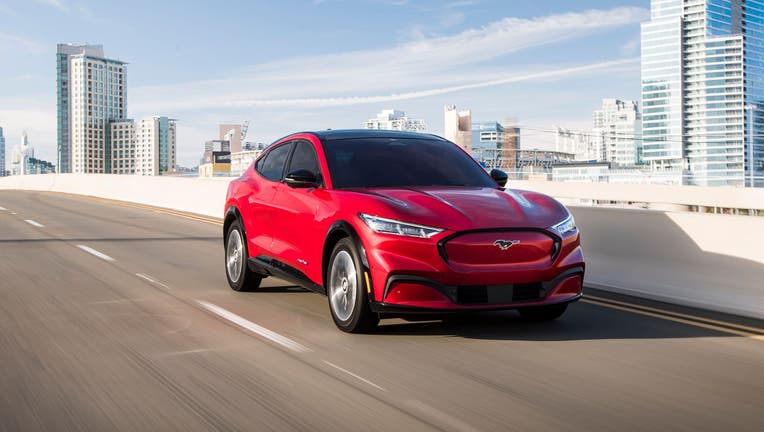 article
DEARBORN, Mich. - Ford's electric Mustang model the Mach-E scored a few bragging rights after it was named Electric Vehicle of the Year by Car and Driver.
It's a big win for the company as it dives head-first into the EV world. It's also the first time the magazine is awarding an Electric Vehicle of the Year award.
The Mustang Mach-E beat out 11 other electric vehicles over a three-week period, the magazine said. Among the testing that each car is put through is a thousand-mile road trip.
"If an automaker wanted to convert people from EV skeptics to EV evangelists, it's hard to imagine a better vehicle for the job than the Ford Mustang Mach-E," read the announcing article.
"We felt that if a carmaker was looking to convert people from EV skeptics to EV evangelists, there's not a better vehicle out there than the Mustang Mach-E," said Sharon Carty, Car and Driver editor-in-chief. "It's a familiar shape and size of crossover. It's in the sweet spot of what Americans love. It's beautiful. It's a design that gets noticed. It has a range and charging speed that is very competitive."
To rank in the upper echelons of automotive rankings, vehicles must meet criteria akin to the magazine's other 10Best Awards: excelling at driving engagement, value or practicality, fulfill the mission better than its competitors, and be fun to drive.
The Mach-E beat out the Nissan Leaf, the Audi e-tron, and three different Tesla models. 
RELATED: The Ford F-150 Lightning revealed
Accolades aside, Ford crown EV already on the market is also winning over the hearts of customers, and eating into the profits America's best-known electric vehicle maker Tesla.
It was the third-highest selling electric car model in its first full month of sales in February - behind Tesla's Model 3 and Model Y.
Tesla's share of the EV market fell as a result from 81% to 69%. According to Morgan Stanley, the Mach-E was behind all of Tesla's market-share losses.