Garth Brooks' touching tribute to Gordie Howe in Saskatoon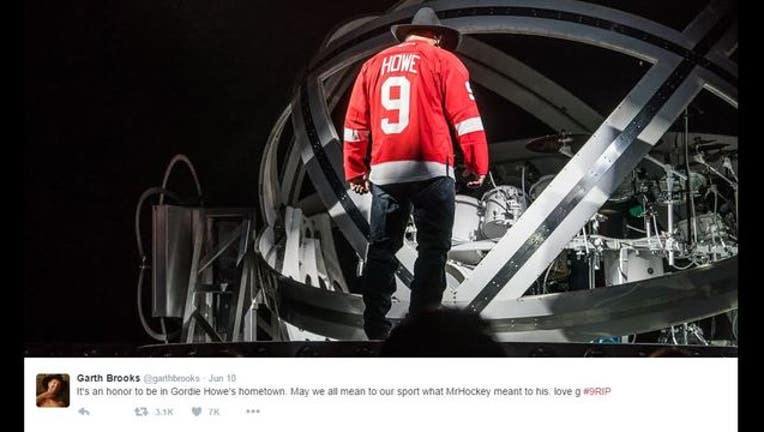 article
When a country music legend lands in the hometown of a hockey legend who died the same day, what's he to do? If the country music legend is Garth Brooks, he honors him in any way possible.
Garth played a show in Gordie Howe's hometown of Saskatoon Saturday night. When he took the stage, he did so wearing a Gordie Howe Red Wings #9 jersey.
Garth posted a picture on his verified Twitter account, saying it was "an honor to be in Gordie Howe's hometown". See the entire tweet below:
Howe was actually born in Saskatchewan and his family moved to Saskatoon when he was young. That's where he fell in love with Hockey and became the man we know as Mr. Hockey.
Howe died Friday morning, the same day Garth Brook played in Saskatoon, at the age of 88. His visitation will be open to the public Tuesday at Joe Louis Arena.
The visitation will be open to the public from 9 a.m. until 9 p.m. Tuesday and the funeral for Howe will be the following day at 11 a.m. Wednesday at Cathedral of the Most Blessed Sacrament, 9844 Woodward.