George Clooney helps establish "model" high school in LA
LOS ANGELES - George Clooney is known as many things... actor, director, writer, producer, activist. Now, he's also known as the co-founder of a public school program that's been described as a "national model" by the U.S. Secretary of Education.
"We're just trying to level the playing field," Clooney told FOX 11 in an exclusive interview.  
Clooney helped establish the Roybal Film and TV production magnet school at the Edward R. Roybal Learning Center near downtown Los Angeles in 2022.
The goal is to train students early for so-called "below the line" Hollywood production jobs. Essentially, "below the line" is every job that isn't an actor, writer, or director.
"We have a problem in our industry with diversity. Not as much in front of the camera, honestly, but behind the camera. If you go to the sets, they don't represent what the rest of the country looks like. We're trying to fix that!" Clooney said.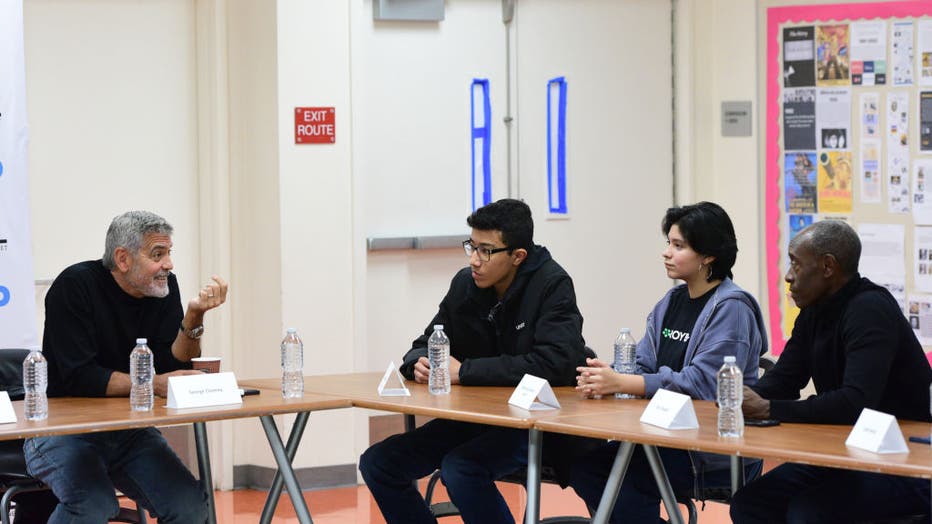 LOS ANGELES, CALIFORNIA - JANUARY 09: George Clooney, Roybal film and television production magnet school students Kennedy Pinto and Karisma Quintero and Don Cheadle speak during a tour of Roybal film and television production magnet school with Secr
They launched the program at a school where 90% of kids live below the poverty line. All classes in this public school magnet program weave in the themes of production and include hands-on training.
"There are so many young people who don't even know these jobs exist. They are kind of legacy jobs. They don't know about a visual effects supervisor, where they could make a lot of money," he said.
The program costs about $1.5 million a year to run.
Clooney worked with his producing partner Grant Heslov, his long-time agent CAA's Bryan Lourd, and a group of celebrities including Don Cheadle, Mindy Kaling, and Kerry Washington on the project. They recruited major studios like FOX, Paramount, Netflix, and Disney to help fund this public/private partnership.
"The unique part of it is the partnerships," said principal Blanca Cruz. "It allows us to bring to life the real life application in the industry."
FOX Entertainment CEO Rob Wade is a member of Roybal's advisory board.
"We've all had that moment where we're outsiders and we're trying to get in somewhere and we weren't given that opportunity…that leg up. And this is giving everyone that opportunity, that leg up and the equity," Wade said.
9th grade student Calergo Roman added, "It really brought new opportunities for me, which I didn't think I could do so I'm really grateful for that."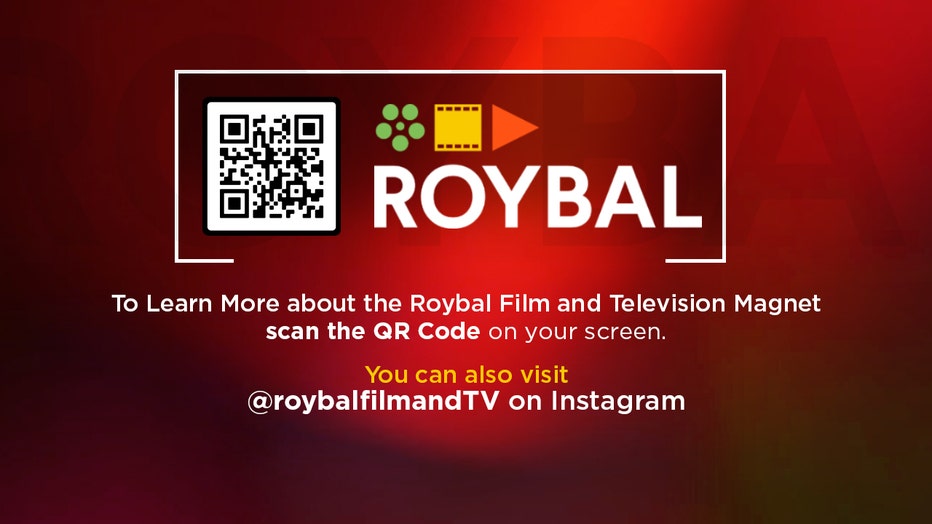 Teacher John Paul Green has noticed a change in his students. "There's more of an energy, an engagement, because they're working on things that are meaningful to them," Green said.
LAUSD Superintendent Alberto Carvalho said this program is something the entire district can learn from.
"Public education is as fundamental to our country as democracy is. But effective public education is what we need and there's nothing more effective than educational programs that students want to be in!"
Students can enter the school via a lottery.
"There's an application window that opens every single year. And students have an opportunity to apply for a number of district wide programs. Let the lottery process decide it but let them be very clear about what interests them because we know engaged students who have an interest in what they're learning, perform better in English and mathematics. It makes sense!" Carvalho said.
Carvalho and Clooney recently offered a tour to U.S. Secretary of Education Miguel Cardona and Second Gentleman of the United States Doug Emhoff.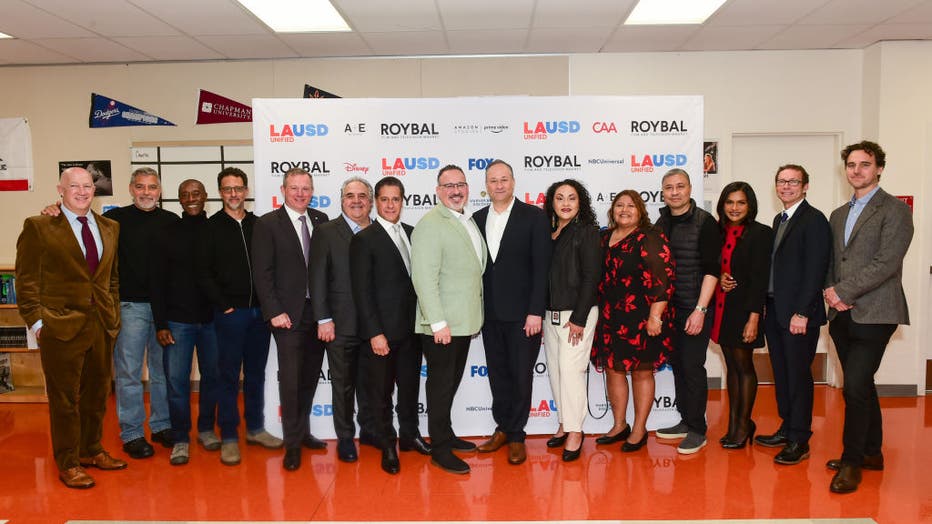 Co-chairman of the CAA-Roybal advisory board Bryan Lourd, George Clooney, Don Cheadle, Grant Heslov, Vice President for the IATSE national benefit funds Mike Miller, Jim Gianopulos, superintendent of the Los Angeles Unified School District Alberto M
"You're in a model we want to replicate across the country," Cardona said.
Emhoff added: "We can do this with nurses, we can do this with tech, we do this with so many different things all across the country."
Clooney hopes the idea expands to other states.
"You get more than your money back. These folks become taxpayers really quickly. If your inclination is to say, affirmative action isn't fair, that is many people's inclination. This is the argument to say, then this is the way to do it," Clooney said.
For more information on the school, visit eifoundation.org/partners/roybalschool/