Guide to Michigan's 2018 candidate filing deadline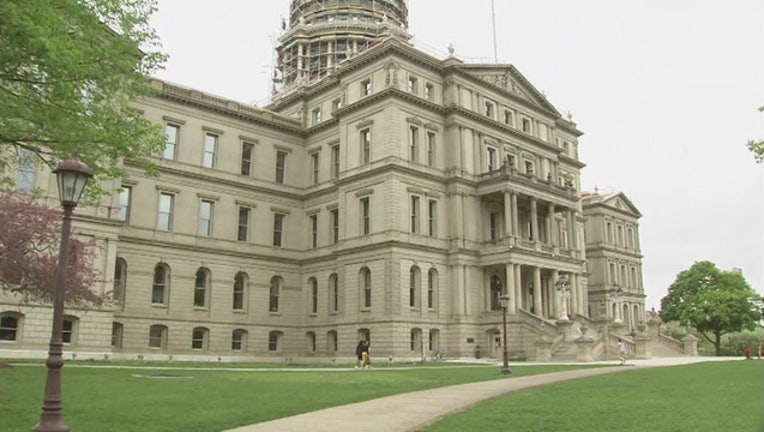 article
LANSING, Mich. (AP) - Michigan's 2018 elections came into clearer focus Tuesday, the deadline for candidates to file for top offices such as governor, Congress and the Legislature.
Next is a 3?-month slog to the August primary, followed by the general election in November.
For Democrats, 2018 is make or break - a chance to take back power from Republicans who fully control the governments in Lansing and Washington, D.C. For the GOP, it is an opportunity to defy historical and cyclical trends that suggest trouble for the president's party in midterm elections despite Donald Trump's surprise Michigan victory in 2016.
A look at the key races:
___
GOVERNOR
Second-term Gov. Rick Snyder's impending departure under term limits has led four Republicans and three Democrats into a battle to follow him. The GOP field includes three candidates with elective experience - state Attorney General Bill Schuette, Lt. Gov. Brian Calley and state Sen. Patrick Colbeck - and one newcomer, Dr. Jim Hines. Calley is running on Michigan's economic turnaround under Snyder's watch, while rival Schuette is touting a proposed income tax cut and his support from President Donald Trump. The conservative Colbeck bills himself as an anti-special interest candidate with "principled solutions," while Hines is the non-politician outsider.
The Democratic side features former Senate Minority Leader Gretchen Whitmer and two candidates who have never held elective office: businessman Shri Thanedar and ex-Detroit health director Abdul El-Sayed. Whitmer says her legislative experience is needed to fix roads and schools neglected by Republicans. Thanedar is spending millions of his own money as Snyder did and hopes his rags-to-riches immigrant story resonates. El-Sayed, a young doctor and public health expert who would be the country's first Muslim governor, is refusing corporate campaign money and touting liberal issues such as Medicare for all and a $15-an-hour minimum wage.
___
SENATE
Democratic U.S. Sen. Debbie Stabenow is up for re-election after coasting to victory in her two previous re-election campaigns. Her Republican opponent will be John James, an African-American Iraq War veteran and executive in his family's logistics business, or Sandy Pensler, a business turnaround expert whose investment group owns four manufacturing plants. Pensler has given $5 million to his campaign and said unlike the GOP nominees who lost to Stabenow in 2012 and 2006, "I haven't been in politics before." He says that he has the money to hold Stabenow "to her record, which is not a good one for Michigan." James said he can broaden the party to include millennial and minority voters. "This seat will not be bought. It must be earned," he said. Outside spending will depend on the national battle for control of the Senate, where the map favors Republicans but the national climate favors Democrats. Stabenow declined to comment. Michigan Democratic Party Chairman Brandon Dillon said she has a "strong records of results" such as preventing oil drilling in the Great Lakes and authorizing a bipartisan farm bill.
___
HOUSE
Democrats need to pick up at least 24 seats to take control of the House for the last two years of Trump's first term, and some key targets are in Michigan. They include the GOP-leaning 11th District in suburban Detroit, where Rep. Dave Trott is retiring. Five Republicans and five Democrats had filed as of noon. Another competitive seat is the Republican-leaning 8th, which stretches between the northern Detroit suburbs and Lansing and is represented by Rep. Mike Bishop. Democrat Elissa Slotkin, who had U.S. intelligence, national security and defense roles during the Obama and Bush administrations, must first win a primary against progressive Michigan State University professor Chris Smith to advance. Other potential battleground districts include the 1st in northern Michigan and the 7th in the south-central portion of the state, yet their voters backed
Former Rep. John Conyers' resignation and the approaching retirement of Rep. Sandy Levin have sparked a number of Democrats - including their sons - to jump into primaries that will decide the long-time lawmakers' successors, given they are Democratic-heavy seats. In the 9th District in suburban Detroit, Levin's son Andy will face former state Rep. Ellen Lipton and lawyer Martin Brook. In the 13th, which includes parts of Detroit and western Wayne County, the nine Democratic candidates include Conyers' son John; his great-nephew, state Sen. Ian Conyers; Sen. Coleman Young II, the son of the former Detroit mayor; Detroit City Council President Brenda Jones, former state Rep. Rashida Tlaib, Westland Mayor Bill Wild and others.
___
LEGISLATURE
The GOP holds 63-46 and 27-10 edges in the state House and Senate. Democrats hope a "blue wave" propels them into the House majority, but at the very least they want to win enough districts in both chambers to make a serious play for control in 2020, after which the once-a-decade redistricting will occur. In the Senate, term limits will leave roughly three-quarters of the seats open in 2018. House turnover will not be as substantial, though many House members are running for Senate. One notable legislative candidate is term-limited Republican Secretary of State Ruth Johnson, who is running for a Senate district in Oakland and Genesee counties.
___
WITHDRAWAL
Candidates will appear on the ballot barring any determination that not enough signatures were submitted. They have until Friday afternoon to withdraw.
___
This story has been corrected to show that the partisan edge in the Senate is 27-10, not 26-11.
___
Online:
List of who has filed: http://miboecfr.nictusa.com/election/candlist/2018PRI_CANDLIST.html
___
Follow David Eggert on Twitter at https://twitter.com/DavidEggert00 . His work can be found at https://apnews.com/search/David%20Eggert