Woman, 28, arrested for posing as 17-year-old high school student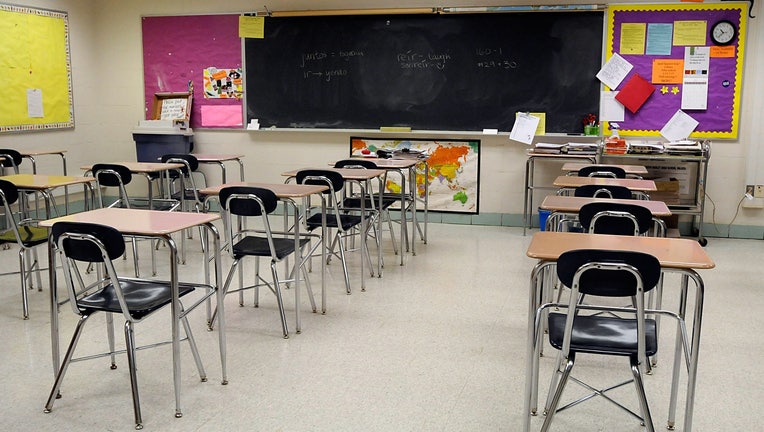 article
HAHNVILLE, La. - A 28-year-old woman who enrolled at a Louisiana high school and posed as a 17-year-old student to learn English has been arrested along with her mother, authorities said Wednesday.
Martha Jessenia Gutierrez Serrano and her mother, Marta Elizabeth Serrano Alvarado, 46, both of Boutte, were arrested Tuesday, the St. Charles Parish Sheriff's Office said in a news release. Each are charged with a one count of injuring public records.
Serrano Alvarado used a fake passport and birth certificate from Honduras to register and enroll her daughter at Hahnville High School for the 2022-2023 school year, the sheriff's office said.
Sheriff Greg Champagne, at a news conference Wednesday, said Gutierrez Serrano told investigators she enrolled in school to learn the English language.
READ MORE: 6-year-old girl goes viral for showing poise in school photo
"She wanted to learn English. She wanted to become proficient in the English language," Champagne said.
"There was no nefarious reason behind this," he said, adding that the falsifying of government documents to do this was just "bad judgment."
Champagne noted there were other avenues the women could have taken, including enrolling in ESL or GED programs. "Certainly that is a much better option than falsifying records," he said.
The sheriff said Gutierrez Serrano did not participate in any extracurricular activities and had no disciplinary issues while attending school.
"There is no current evidence of any other criminal activity or inappropriate conduct" by either woman, he said.
READ MORE: School district presses charges after students cemented toilets in 'senior prank'
Four days after the school year ended on May 25, an internal investigation began after the St. Charles Parish School System received a tip that a female student at Hahnville High School believed to be 17 may actually have been in her mid-20s, the sheriff's office said.
It was unknown if either woman has an attorney who could comment on the arrests.
"The school system will enhance processes to determine the authenticity of enrollment documents for current and future students as well as modify policy and procedures as warranted," the school system said in a statement late Tuesday, The Times-Picayune/The New Orleans Advocate reported. "As this is an ongoing investigation conducted by the Sheriff's Office, no further information or specifics may be shared at this time."
This is not the first time this year that an adult has been accused of posing as a U.S. high school student. In January, a 29-year-old woman was charged with using false documents to enroll in a New Jersey high school and attend classes over a four-day period. A judge in May allowed her to enter a pretrial intervention program.