Watch: Service dog that inspired PAWS Act for veterans honored on her final flight
Kaya, a retired military service dog, took her final flight from Reagan National Airport in Washington, D.C., to Dallas Love Field Airport in Dallas, Texas, recently — and was honored by Southwest Airlines during the trip. 
The dog had been diagnosed earlier with terminal cancer — and was traveling home on the Feb. 2 flight.
"We have a special guest on today's flight: Kaya is a German shepherd service dog, who has been with her handler Cole since 2014," the captain of Southwest Air Flight #1154 said over the intercom to passengers, which was then shared in a video on Southwest Airline's Facebook account. 
VETERAN SUICIDE PREVENTION WORK NEEDS 'FUNDAMENTAL CHANGE,' SAYS MISSION ROLL CALL — HERE'S HOW
The captain noted that Kaya was the inspiration behind the PAWS Act, a federal law enacted in 2021. 
Short for "Puppies Assisting Wounded Servicemembers Act," the PAWS Act expands coverage of service dogs for the treatment of PTSD through Veterans Affairs. 
In their work of advocating for service dogs, Kaya and her handler, nonprofit Mission Roll Call executive director Cole Lyle of Virginia, went on many flights together, often on Southwest Airlines.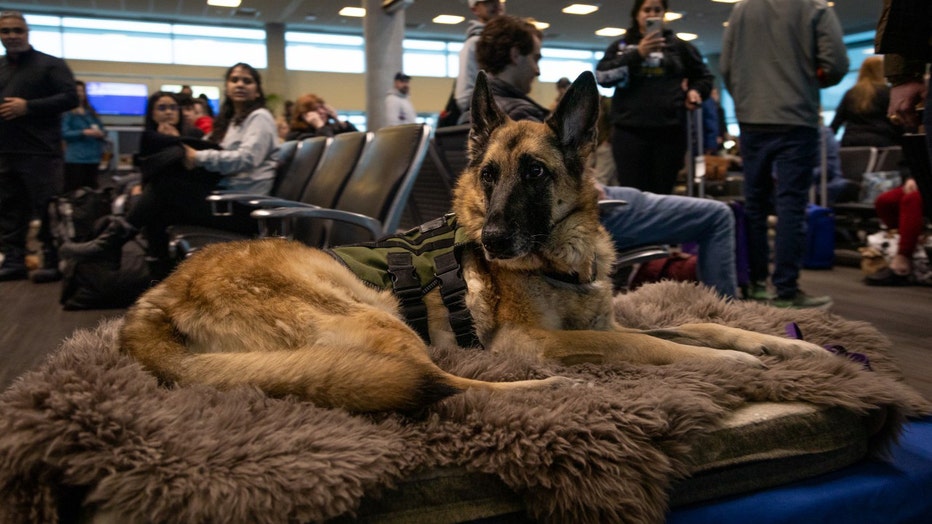 Kaya, a German shepherd service dog, was given the royal treatment by Southwest Airlines on her final flight. (Southwest Airlines)
"Lobbying for the PAWS Act and traveling with Cole, Kaya has flown on Southwest over 250 times out of her 320 flights she's been on," said the captain. 
Other passengers can be heard on the video exclaiming, "Wow." 
SERVICE DOG BY HER SIDE, TEXAS TEEN WINS MISS DALLAS PAGEANT DESPITE EPILEPSY, AUTISM
"Sadly, Kaya was recently diagnosed with an untreatable cancer, so we have the solemn honor of taking her on what will be her last flight, as she goes home to rest where she was born and where she first met Cole," said the captain.
The captain encouraged people to look up Kaya's story and, if so inclined, "pay her a visit when we arrive in Dallas to show her some love."
"On behalf of Southwest Airlines, your two veterans upfront — we thank both Kaya and Cole, a Marine Corps veteran, for their service," said the captain, to cheers from the aircraft.
AMERICA'S VETDOGS OFFER FREE SERVICE DOGS TO OUR MILITARY AND FIRST RESPONDER HEROES
Resting on a blanket on the floor of the plane for the duration of the speech, Kaya can be seen lifting up her head to acknowledge the applause in her honor. 
"We were honored to fly our loyal friend and retired military K9 Kaya on yesterday's flight #1154 from DCA to Dallas," a representative from Southwest Airlines told Fox News Digital. 
"Our team was on the ground to welcome her home and we are so grateful to honor and be part of her legacy. We thank her and owner, Cole, for their many years of service." 
Kaya was diagnosed with cancer in mid-January after a biopsy, Lyle announced in a Jan. 17 post on his Facebook page. 
PETS QUIZ! HOW WELL DO YOU KNOW THESE SURPRISING FACTS ABOUT DOGS, CATS, BIRDS, RABBITS AND MORE?
On Feb. 1, Lyle revealed that her condition was terminal — and that they would be taking one final trip to Texas together.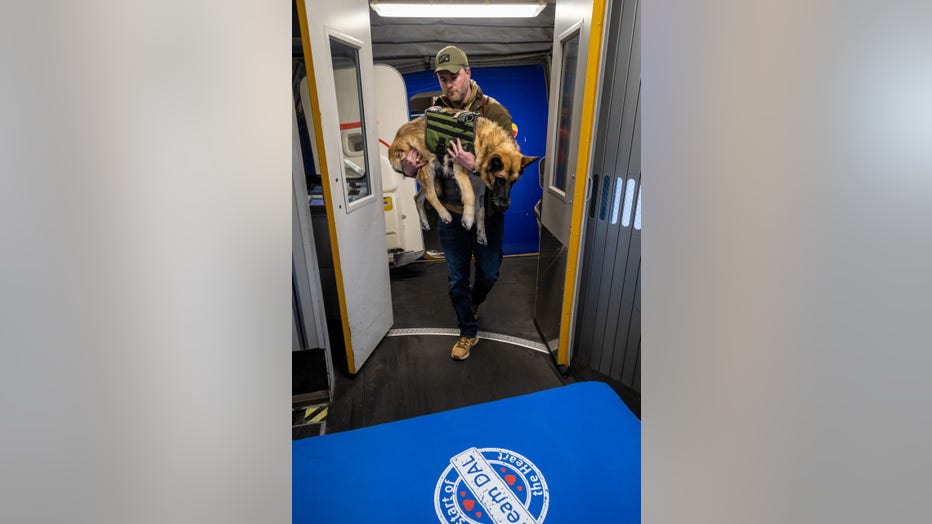 Lyle carried Kaya onto the airplane for her final flight, as walking had become difficult for her due to her illness. (Southwest Airlines)
Kaya died on Feb. 4, in College Station, Texas. 
Lyle is an alumnus of Texas A&M University in College Station. 
Cole Lyle told Fox News Digital that "Kaya's life was characterized by service." 
"From helping me overcome my own service-related issues during difficult times to being a catalyst for nationwide service dog legislation — and serving as a de facto ambassador for all veteran service dogs in America — she was truly one of a kind," he said.
COMBAT VETERAN AND HIS WIFE HELP OTHERS WITH PTSD – AND FIND HEALING AND HOPE
"Of course, her greatest legacy is — and always will be — the other veterans who were inspired to get their own service dogs and confessed they would've taken their lives had they not done so," he also said.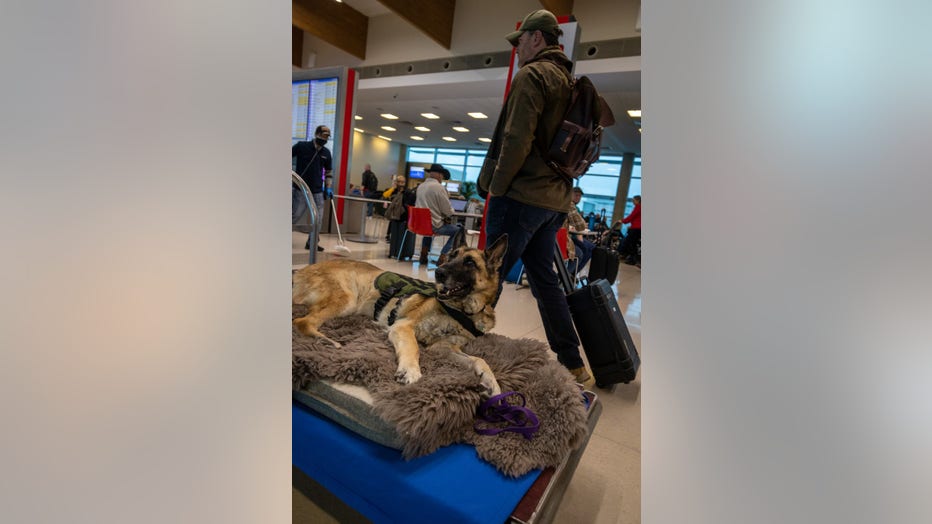 Kaya rests on a blanket, above. They "made sure her final days were comfortable and full of love," her owner Cole Lyle said of Southwest Airlines and Texas A&M University. (Southwest Airlines)
Lyle said he was "overwhelmed" by the support he received from Southwest Airlines and Texas A&M University. 
CLICK HERE TO SIGN UP FOR OUR LIFESTYLE NEWSLETTER
"[They] made sure her final days were comfortable and full of love," he said. 
CLICK HERE TO GET THE FOX NEWS APP
"I would also like to thank the millions who have seen and shared her story across the internet, and the thousands — family, friends and complete strangers — who have reached out to support me in this difficult time," said Lyle. 
"Kaya's legacy lives on. Never Give In."