Krispy Kreme launches Oreo and Chips Ahoy! doughnut line for limited time: 'Crazy explosion of cookies'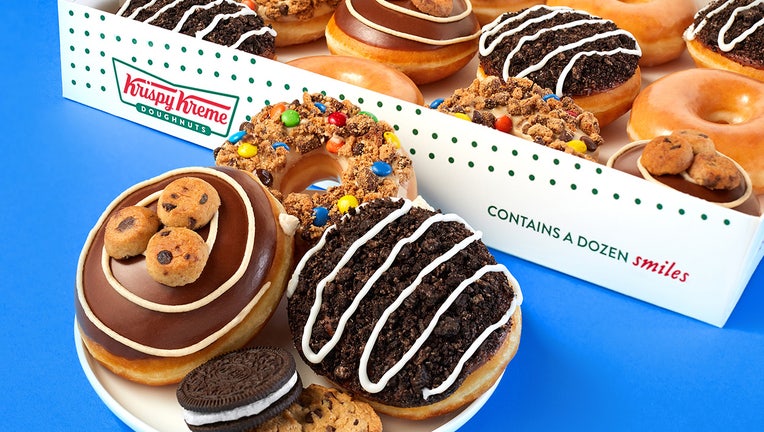 article
Krispy Kreme has a new line of cookie-flavored doughnuts that use Oreo and Chips Ahoy! pieces.
The four-piece "Cookie Blast!" set is available for purchase now, and it will be available at Krispy Kreme shops nationwide through Sunday, May 7, according to the doughnut chain's website and press release.
One of the cookie doughnut varieties – the Oreo Cookies & Kreme Filled Doughnut – is a returning "fan favorite" that's made with a trademarked Cookies & Kreme filling, dark chocolate icing, Oreo cookie pieces and a white icing drizzle.
MCDONALD'S DOING WIDER TEST OF KRISPY KREME DOUGHNUT SALES IN KENTUCKY
Two of the limited-time cookie doughnuts are made with Chips Ahoy! cookie pieces for consumers who prefer chocolate chips over crushed wafers and vanilla creme.
The first option – the Chips Ahoy! Candy Blasts Doughnut – uses Krispy Kreme's Original Glazed Doughnut as a base and has a cookie dough icing that's topped with Chips Ahoy! cookie pieces, milk chocolate candy gems and semi-sweet chocolate chips.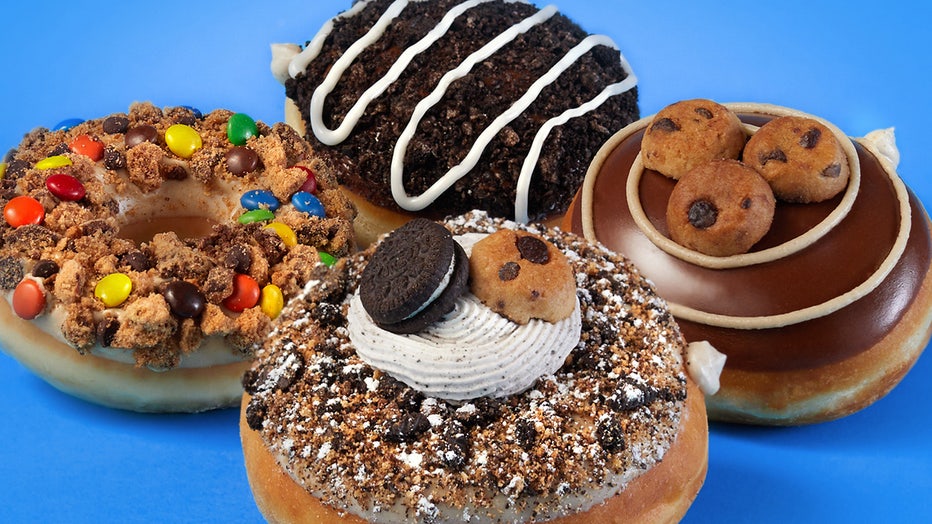 Chips Ahoy! and Oreo doughnut offerings from Krispy Kreme. Available for a limited time.  (Krispy Kreme )
The second Chips Ahoy! doughnut – the Chips Ahoy! Cookie Dough Kreme Doughnut – is made with a plain doughnut, a trademarked Chips Ahoy! Cookies & Kreme filling, chocolate icing, cookie dough drizzle and a trio of miniature Chips Ahoy! cookies.
Krispy Kreme completes its limited-edition Cookie Blast! doughnut line with an Oreo and Chips Ahoy! Cookie Blast Doughnut, which the company has branded as "a crazy explosion of cookies."
DUNKIN' BRINGS BACK FAN-FAVORITE FLAVOR TO ITS PERMANENT MENU 
The hybrid cookie doughnut is made with an Oreo Cookies & Kreme filling that encases two chewy Chips Ahoy! cookies. 
The sweet treat is then dipped in cookie dough icing and topped with crushed Oreo and Chips Ahoy! cookie pieces.
Krispy Kreme finishes the doughnut with a dollop of its Oreo Cookies and Kreme icing, a single miniature Oreo cookie and a single miniature Chips Ahoy! cookie. 
Doughnut fans who don't live near a Krispy Kreme shop may have an opportunity to purchase a six-count box of the limited-edition treats from Walmart, Kroger, Food Lion, Publix, Stater Brothers, Wakefern and other regional grocery stores.
"Imagine your favorite doughnut with two Chips Ahoy! cookies inside it. We made that a reality," said Dave Skena, global chief brand officer for Krispy Kreme, in a statement.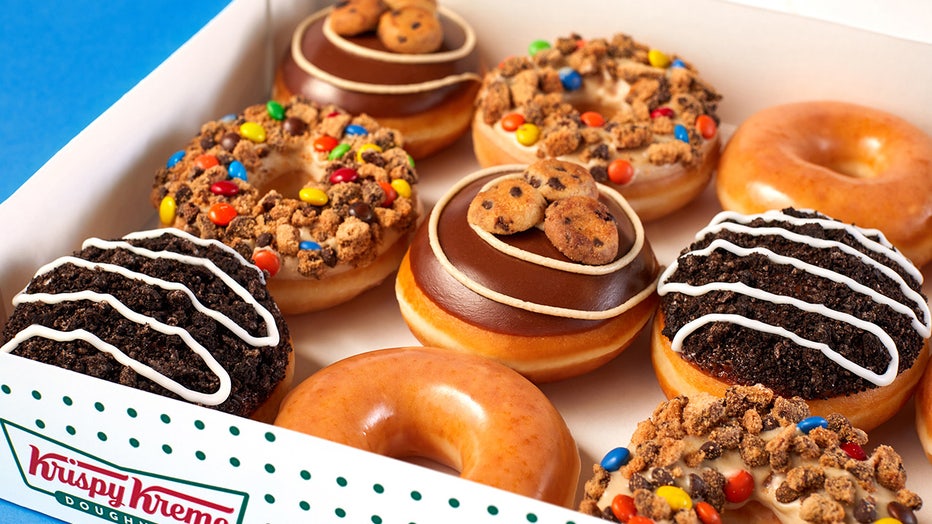 A dozen of Krispy Kreme's new limited-edition Oreo and Chips Ahoy! doughnuts. (Krispy Kreme)
KRISPY KREME LAUNCHES TWIX DOUGHNUTS IN 1ST COLLAB WITH CANDY BRAND 
Krispy Kreme has partnered with Nabisco – the parent company of Oreo and Chips Ahoy! – on past limited-time doughnut releases, including the company's "Oreo Cookie Glaze" line from April 2021. 
The doughnut chain also made news for a limited run of Chips Ahoy! and Nutter Butter cookie doughnuts in April 2018.
Mondelez International, Inc., the Chicago-based confectionery and snack food company that operates Nabisco, noted that its Oreo cookie brand made over $4 billion in global net revenues last year, according to the company's published fourth-quarter results for 2022.
THOSE COLD, COLORFUL JUICES AT CHAIN RESTAURANTS ALSO CONTAIN CAFFEINE: WHAT PARENTS NEED TO KNOW
Krispy Kreme has notably launched several doughnut collaborations with candy and dessert snack brands following JAB Holding Company's acquisition of the doughnut chain in 2016.
JAB Holding is a German conglomerate headquartered in Luxembourg that invests in companies that serve coffee and fast food customers and other consumer goods, including Peet's Coffee and Keurig Dr Pepper.
Following JAB Holding's acquirement of Krispy Kreme, the doughnut chain's notable third-party collaborators include Lotus Bakeries, The Hershey Company, Nestlé, Ferrero International S.A. and Mars, Inc.
GET FOX BUSINESS ON THE GO BY CLICKING HERE
Krispy Kreme went public on the NASDAQ in July 2021 under the stock ticker "DNUT." The doughnut chain is still headquartered in Charlotte, North Carolina.
If cookie-inspired doughnuts aren't enough, Krispy Kreme is also selling a limited-edition Oreo Frozen Mocha Latte as a "gourmet coffee," which is blended with espresso, a frozen latte mix and cookie pieces.
The drink, which ranges between 510 and 920 calories depending on its size, is topped with whipped cream and Oreo cookie crumbles.
CLICK HERE TO READ MORE ON FOX BUSINESS
Full nutrition facts for each of Krispy Kreme's Cookie Blast! menu items are on the doughnut chain's website.