Long-awaited Detroit Shipping Co. collective opens Friday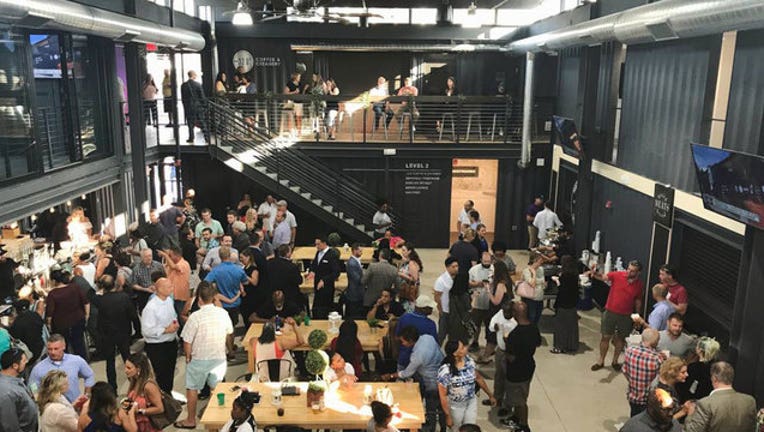 DETROIT (WJBK) - Detroit's going to be packed to the brim with people this weekend, with four major shows happening Friday and Saturday nights at Comerica Park and Little Caesars Arena. But adding to the excitement is the much-anticipated opening of Detroit Shipping Co., a restaurant collective and beer garden made out of old shipping containers. 
The collective's grand opening is Friday, July 13 at 7 p.m. 
They posted some photos on social media from last night, when they let friends and family in to check the place out first. 
Detroit Shipping Co. is located just a few blocks north of Little Caesars Arena, so it's in a prime spot to grab some food if you're downtown for a major event. It's only about a 15 minute walk from Comerica Park or the Fox Theatre, too. 
The owners say the menu will be limited on opening night, only food offerings only from Bangkok 96 Street Food and Coop - Caribbean Fusion. But the website promises 5 food-truck style eateries, eventually also including Brujo: Tacos & Tapas; Motor Burger; and Breads Meats Bread. 
You'll also find two full service bars in the complex and 320 Coffee & Creamery, a stop to fulfill your after-dinner sweet tooth. You also could find art, music and shopping some nights there, too. 
The space is made up of 21 refurbished shipping containers and is more than 10,000 square feet. The food and bars are spread out over two floors with open-air courtyard seating.
Opening night begins at 7 p.m. and they'll be open until 2 a.m. They'll be open at 11 a.m. on Sunday, July 15 for the World Cup Final, too. 
Address: 474 Peterboro Detroit, Michigan 482
www.detroitshippingcompany.com