Looming UAW strike could cost US economy more than $5B in just 10 days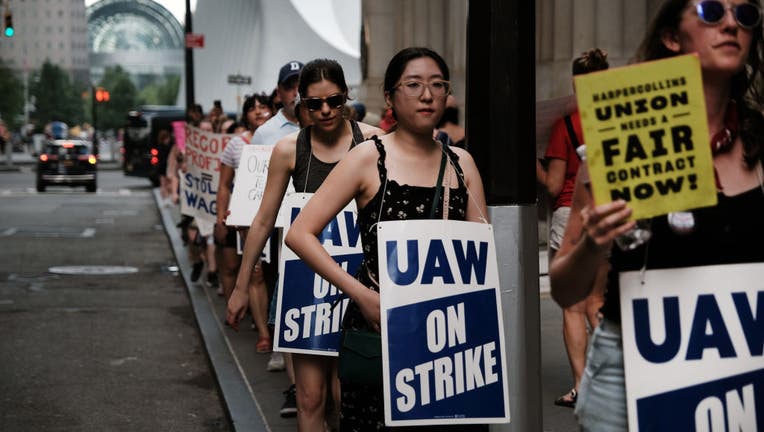 article
If the United Auto Workers decides to strike against the "Big Three" Detroit automakers when the current contract expires next month, it could cost the U.S. economy more than $5 billion, according to a new analysis from the Anderson Economic Group, a Michigan-based think tank that specializes in the economic impact of labor strikes. The report estimates that economic losses from a ten-day work stoppage could cost about $5.6 billion.
"Even a short strike would impact economies throughout Michigan and across the nation," said Patrick Anderson, CEO of the Anderson Economic Group.
That figure includes manufacturer losses of $989 million and lost direct wages of $859 million. It does not take into consideration strike pay, unemployment benefits, unemployment taxes, income taxes, government spending or settlement bonuses. 
Negotiations between UPS and the Teamsters union stalled last week as the two sides remain at odds over the terms of a new contract, raising the odds of a strike at the beginning of August.  
UPS OFFERS TEAMSTERS 'SIGNIFICANT' PAY BOOST AS UNION'S STRIKE THREAT LOOMS
The union's current contract with General Motors, Ford and Stellantis – the maker of Chrysler and Jeep – expires on September 14. About 146,000 UAW workers are set to vote next week on whether to authorize a strike against the Detroit automakers. 
UAW President Shawn Fain urged members to authorize a strike a Facebook live appearance this week.
"If we want to make progress at the bargaining table, we need to show the companies that it's not just talk," Fain said.
The main point of contention between the two sides is higher pay, with Fain saying the union will seek more than 40% general pay raises for rank-and-file members over four years, making all temporary workers at the automakers permanent, cost of-living adjustments, increases in pension benefits for current retirees and restoring pensions for new hires, among other benefits. 
Fain called the demands the "most audacious and ambitious list of proposals they've seen in decades." 
Negotiations appear to have made little headway so far, with automakers noting they are facing a multibillion-dollar shift to electric vehicles. 
GET FOX BUSINESS ON THE GO BY CLICKING HERE
Stellantis has sharply criticized the demands of the autoworkers. In a letter to employees last week, Stellantis North America Chief Operating Officer Mark Stewart belittled the "theatrics and personal insults" from Fain and urged a "focus on reality from everyone involved," according to Reuters. 
The UAW's demands "could endanger our ability to make decisions in the future that provide job security for our employees," Stewart continued. "This is a losing proposition for all of us."
Read more of this story from FOX Business.