Making Beef Tenderloin with an Italian flair
(FOX 2) - Andiamo's top chef has a special meal destined for any holiday party that knows how to prepare it. 
A Beef Tenderloin with an Italian flair only requires a little skill and the items from the grocery store. 
Ingredients:
2 lb Beef Tenderloin, trimmed
Salt, Pepper, Olive Oil and Garlic as needed
4 oz Sliced prosciutto, salami or capicola
2 oz Olive oil packed sun-dried tomatoes, chopped
2 oz Mixed pitted olives, chopped
1 ea Puff pastry dough sheet, roughly 12"x18"
2 ea Eggs, beaten
Pinch ea Cracked black pepper, sea salt, fresh thyme
2/3 cup Mayonnaise
1/3 cup Sour crème
2-3 Tbls. Stone ground mustard
1 Tbls. Horseradish, prepared
To taste Salt, pepper, tabasco, Worcestershire sauce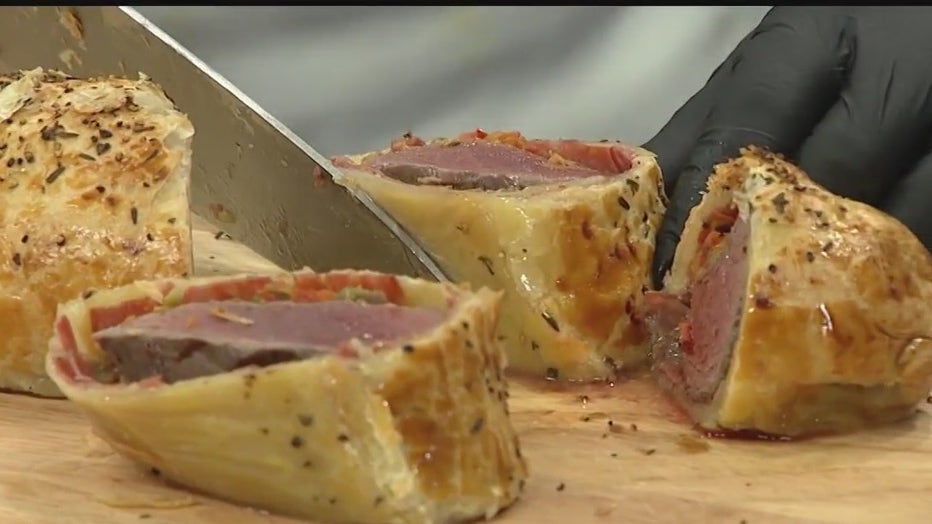 Recipe
Trim the beef tenderloin of any fat or sinew.  You may need to split the beef lengthwise to form a uniform barrel, similar to the width of the puff pastry dough.
Season and rub the beef with the olive oil, garlic and seasonings.  Sear in a hot skillet or on the grill, can be done ahead of time to allow to cool.
Combine the chopped tomatoes and olives to make a relish but drain out all excess moisture.
Lay out the puff pastry on a sheet of wax paper and cover the pastry with the sliced meats, leaving room on all edges to allow it to seal.
Brush the exposed edges of the pastry with the beaten egg.
Lay the cooled beef in the center of the pastry, then line each side with the olive-tomato mixture.
Using the wax paper underliner, roll the beef inside of the pastry as tightly as possible, keeping it even and uniform.  Place the seal on the bottom and trim off any excess as needed.
Place on lined baking sheet and brush with remaining egg mixture.  Sprinkle the top with the salt, pepper and thyme.
Bake at 425 F until the pastry is golden brown and crisp, looking for an internal temperature on the beef of 120F for a nice medium rare.
Allow to rest for 10 minutes before slicing, allowing you time to make the sauce.
Combine the mayo, sour crème, mustard, horseradish together.  Season to taste as desired.
Slice the beef and present with a dollop of the aioli just off to the side.
Garnish with arugula or watercress.