Metro Detroit man says Friend of the Court claims he's father to a baby by a woman he's never met
DETROIT (FOX 2) - A Metro Detroit man has levied some strong accusations against Friend of the Court after they claim he's the father of a child. The problem is, he's happily married and says he's never met the mother.
DeAngelo Smith said he got a phone call in late December from his wife who said they needed to talk. She had just checked the mail and found something that really stood out.
"Typically I don't open up my husband's mail, but this particular piece of mail said FRIEND OF THE COURT. So, I said I'm getting ready to open it up, to find out what's going on," Tyahvia Smith said.
The letter said that a woman, who we are not naming, alleged that DeAngelo was the father of her daughter.
"Said she's a stripper from Detroit, we had a one night stand at some hotel, and this is the story that was told to me," DeAngelo said.
But he said he has no idea who this woman is.
"They conducted two to three interviews and between those interviews, I don't know which one, she came back and said his name is DeAngelo Smith, his date of birth is December 13, 1982, he's a 6'1 male, dark skin, black hair, brown eyes. At that point, the state went out and came up with my name," DeAngelo said.
After getting the letter, the married couple drove to Benton Harbor on Michigan's west side - a 3-hour drive - as they followed the court order for genetic testing.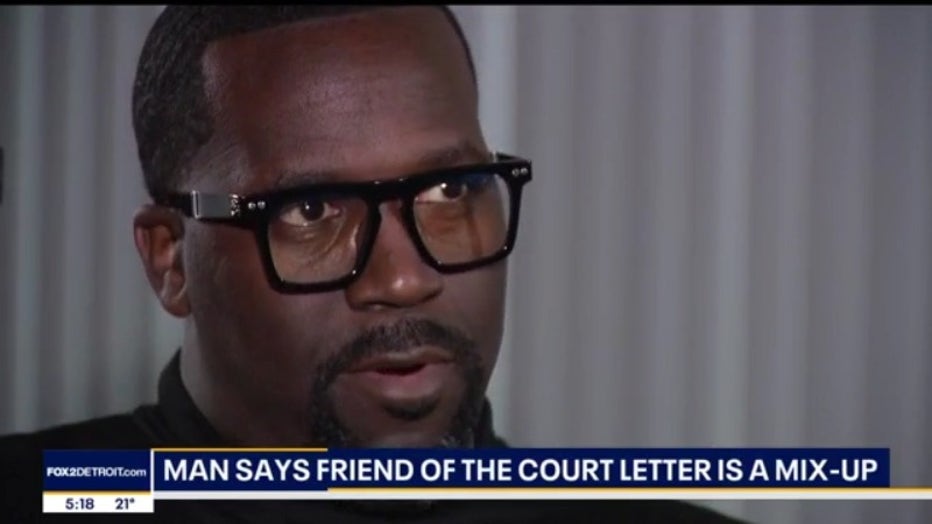 "The situation so tumultuous on so many angles. But the first angle as it relates to the families. When you get a letter like this sent to your house, having a wife and three children live in the house with you. My main goal is my wife's security in who I am, who I am to her, who I am to this house, and to this family," DeAngelo said.
"If our relationship, our marriage was on the rocks or if we had issues in the past that we patched up and this letter came, this letter alone is damaging to so many families, on so many levels to where a marriage, before the truth even gets a chance to come out, the letter alone would damage a whole household," Tyahvia said.
There was another turn on this wild ride - the alleged mother never showed up for the court hearing.
"I went back inside the building and asked if this woman never shows up, what is my recourse? What are my options? What am I able to do? What complaints can I file? False accusations? How do I go any further? They said there is no way we can establish paternity unless she brings the baby in. But if she never brings the baby in, what are my options? She said as far as I know, there are no complaints you can file," DeAngelo said.
That means DeAngelo could be connected to the case until the child turns 18.
"The concept is good. If you have a kid, why should the taxpayers pay for your kid?! If you're the father. The problem is proving it. And a lot of time, the procedure is more difficult than the facts," FOX 2 legal analyst Charlie Langton said. "Luckily this doesn't happen every day.  However, if you have a common name or you've been out with some people, it could happen! It's more common than we think."
With the case pending, Friend of the Court inquired about DeAngelo's employment for possible wage garnishment. 
"The state has a duty to figure out his finances because if he doesn't pass the test or if the test shows he is the father, they want to get this going right now. Remember the state has no time limit, 18 years," Langton said. "At some point, I think the mother is going to show up because she wants the money too! There are benefits she's not getting until she cooperates and get that test. So mom, if you're out there, show up."
DeAngelo said he's determined to clear his name.
"If this was even a possibility of it being my child, I would not be in front of a news camera trying to put this out here," he said.
FOX 2 reached out to Friend of the Court in Benton Harber several times but we have not heard back. We also reached out to the woman listed on the document who initially claimed not to have any knowledge of the situation - but she then called us back several times.
DeAngelo is seeking out a change in the legal process.