Michigan A.G. announces lawsuits against two companies in Flint water crisis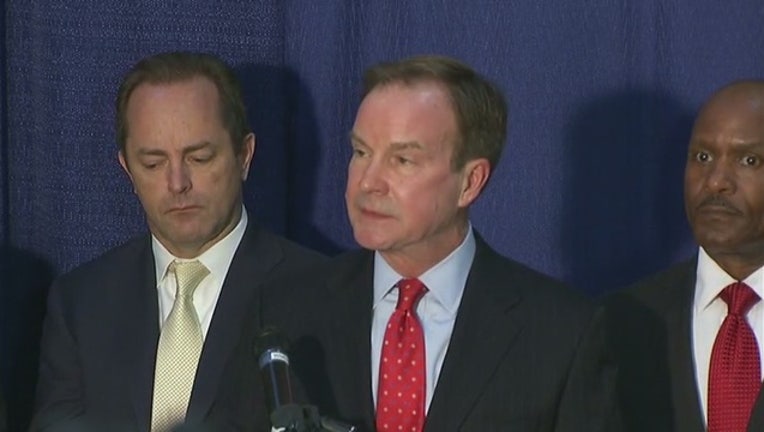 article
FLINT, Mich. (WJBK) - Michigan Attorney General Bill Schuette sues two companies in connection to the Flint water crisis Wednesday morning, saying they caused or worsened Flint's lead-tainted water.
The civil lawsuit filed accuses the two companies of causing the water crisis to happen. The companies listed are Veolia North America, and Lockwood, Andrews & Newnam (LAN).
His announcement began at 10 a.m. You can watch a the entire news conference on our Facebook page by clicking here.
During the press confernce, Schuette said multiple times that the companies botched the job and poisoned the water and people of Flint.
Schuette said LAN was hired in 2011 to upgrade the water treatment plant and they botched the job. When they were hired, Schuette said, they had no corrossion control program in place, allowing lead from the pipes within the almost 100-year-old water treatment plant, to leach lead.
"Adding anti corrosive would have caused less than $200 per day," Schuette said. "Within weeks, the water was brown, discolored, tasted awful, and smelled. E coli levels sky rocketed (as did) boil water advisories issued by city of Flint."
His office waged an investigation back in January and ultimately filed criminal charges against two state employees and one Flint city employee.
October 2014 should have been the final alert for regulators. That's when GM stopped using Flint water because it was corroding their car parts.
"This announcement should have been the final red alert - defcon 1 - for anyone in any entitity in a position of direct responsibility. This alarm fell on deaf, negligent ears," Schette said.
In February 2014, Veolia was brought in as a water consultant. One year later, Schuette says the company issued a report that 'completely misrepresented the quality of the Flint water. The report read "while discoloration may be unappealing, the water is safe".
Scheutte said Veolia also dismissed medical concerns by saying some people may be sensitive to any water.
"I bet you Veolia didn't drink the Flint water," Schuette said.
In March 2015, Veolia recommended to add acid to the water supply. Scheutte said this only caused more corrosion and more poisoning of Flint families.
"The more I discover and decipher - the who, what, when, where, and how - the angrier I become," Schuette said.
Schuette also explained why the Flint crisis was so much worse.
"The difference in Flint is that people committed crimes. A global company and a Texas company botched the job of creating safe water," he said.
Schuette filed the lawsuits this week but would not provide a monetary value on the suits. He said it would be in the 'hundreds of millions' and promised to prove damages.
The civil suit is the latest charges filed in the water crisis. In April, Schuette announced charges against two state employees and one city employee. He stressed on Wednesday that more criminal charges will be coming 'soon'.