Michigan Attorney General's home mobbed by activists over Mackinac Straits pipeline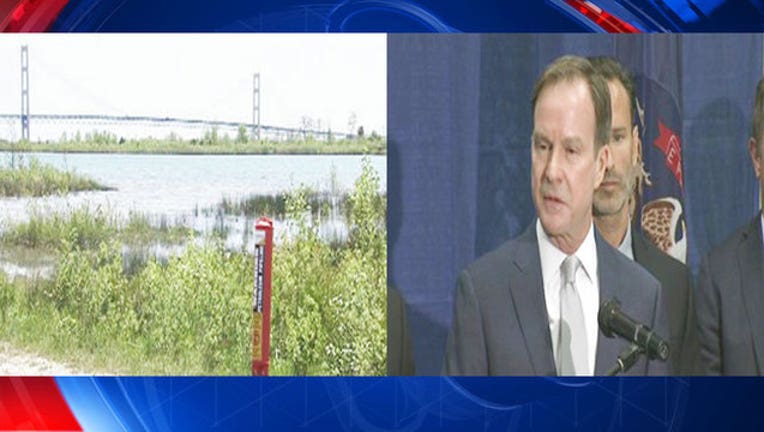 article
The Michigan Attorney General's house was targeted by protesters upset by the Enbridge pipe line in northern Michigan.
About protestors mobbed Bill Schuette's house demanding he shut down the Enbridge Energy Line 5 pipeline in the Straits of Mackinac.
They allegedly pounded on windows, defaced his home, threw unknown substances over the house and driveway and simulated spilled oil related to the pipeline on his property, according to Andrea Bitely, Schuette's press secretary.
"This afternoon, the Schuette's home in Midland was attacked by a mob of about 40 people as the Attorney General's wife Cynthia Schuette was home alone. This was a cowardly assault by professional protestors whose car license plates mostly appeared to be from out of state.  However, the source of the attackers is currently unknown," Bitely said in a release.
"For about 30 minutes, about 40 thugs pounded on the doors and windows, attempting to intimidate the Attorney General's family and the Attorney General in his role as the chief law enforcement officer for the State of Michigan."
Michigan State Police did not make any arrests at the scene.
Bitley said that it was an attempt to "intimidate and bully the Schuette family and the people of Michigan."
Numerous concerns have been raised about the safety of the pipeline and what an oil spill would do to the Great Lakes. Enbridge has said the line is secure and its condition is constantly monitored for weak points. An Enbridge pipeline ruptured in the Kalamazoo River in 2010.
Bitely wrote:
"If the issue at hand is actually Line 5 and not just an excuse to use professional protestors to intimidate state officials and the people of Michigan, this type of reckless and violent behavior was even more illogical since the Attorney General has made clear the pipeline is a risk and is working hard with all groups involved to find a public policy solution that protects the Great Lakes.  Violence and intimidation has no place in this situation or any other.

The Schuette's are thankful for the Midland police, Midland County Sheriff, Michigan State Police and their neighbors for coming to their support. Police will continue to keep an eye on the house."