Michigan creates first-ever LGBTQ+ Commission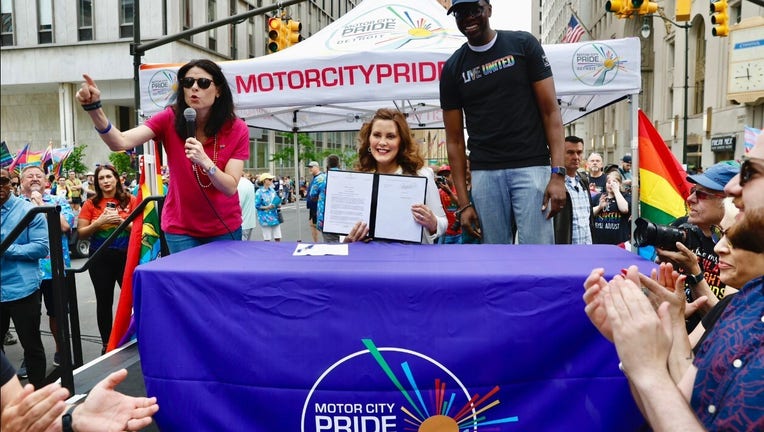 article
DETROIT (FOX 2) - Months following the expansion of Michigan's civil rights law to include protections for LGBTQ+ residents, the governor announced the state's first-ever commission to continue to address issues the community faces.
Making the declaration at the Motor City Pride parade in Detroit, Gov. Gretchen Whitmer said she was establishing a LGBTQ+ Commission that would "focus on health, safety, economic opportunity, and talent retention for the LGBTQ+ community."
"This issue is personal for me, and I will fight like hell to bring more diverse voices into the decision-making process so we can build a brighter future for every Michigander," Whitmer said in a statement. "While other states are engaged in the business of bigotry, Michigan is standing up for the LGBTQ+ community."  
The commission's primary task will be to advise the governor and Department of Labor and Economic Opportunity on policy matters that impact residents that identify as gay, lesbian, queer, bisexual, transgender, or non-binary.
It will improve protections of health and safety for the community while promoting culture, history, and economic contributions made by LGBTQ+ residents. The commission will also look for ways to attract potential and future residents.
"This is what recognition feels like, and this is what representative government looks and acts like. After years of state leaders ignoring LGBTQ+ pride, suppressing our rights and policy needs, and raining on our parades, the rainbows are out and shining bright in Michigan now," said Sen. Jeremy Moss (D-Southfield). 
MORE: Gov. Whitmer signs expansion of Elliot Larsens Act protecting LGBTQ rights in Michigan
Earlier this year, Moss sponsored a bill that added LGBTQ+ protections to the Elliot Larsen Civil Rights Act, which bars discrimination on the basis of religion, race, color, national origin, age, sex, height, weight, familial status, or marital status.
It passed the senate 23-15 and the house 64-45. The governor signed it on March 14.