Michigan defensive tackle Mazi Smith charged with carrying concealed weapon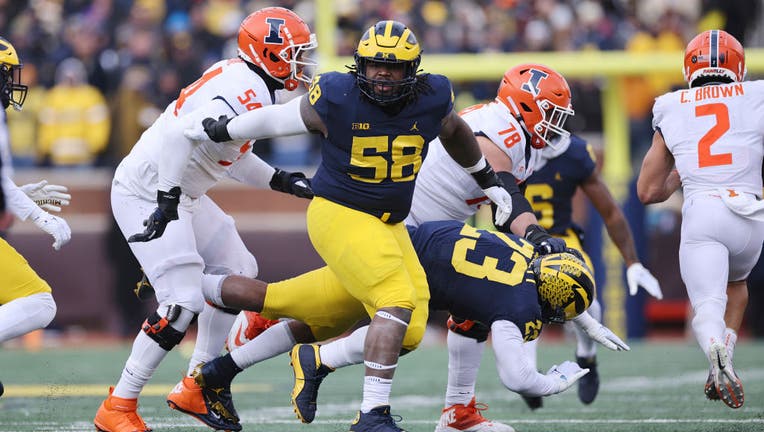 article
ANN ARBOR, Mich. (FOX 2) - Two days before the University of Michigan will play in the Big Ten Championship game, co-captain Mazi Smith was charged with weapons charges after an incident in October in Ann Arbor.
Washtenaw County Prosecutor Eli Savit said Smith had a gun when he was pulled over Oct. 7. However, he was not arrested, so charges weren't immediate. 
Savit would have had 48 hours to make a charging decision had Smith been arrested. Smith was charged Nov. 30. 
During Smith's arraignment Thursday, his attorney said he was in the process of getting a concealed pistol license when he was stopped. He has since received the license, the attorney said. Smith's bond was set at $5,000 personal recognizance. 
The senior defensive lineman has played in every game for the Wolverines, including the next day's game on Oct. 8 against Indiana. For the season, he has 44 total tackles and one total sack. 
No. 2 Michigan plays Purdue on Saturday for the Big Ten Championship in Indianapolis.
According to Michigan Athletic Director Wade Manuel, Smith will continue to play.
Manuel released a statement:
"We are aware of the charge against Mazi from a traffic stop back in October. Mazi was honest, forthcoming, and cooperative from the very beginning and is a tremendous young man. He is not and never has been considered a threat to the university or community. Based on the information communicated to us, we will continue to allow the judicial process to play out. Mazi will continue to participate as a member of the team."
Football coach Jim Harbaugh also released a statement: 
"I have respect for our judicial process, and with that respect brings confidence that a fair and just resolution is forthcoming. Mazi's character and the trust that he has earned over the past four years will continue to be considered throughout the process."