Michigan election results: Gretchen Whitmer confirmed as next Governor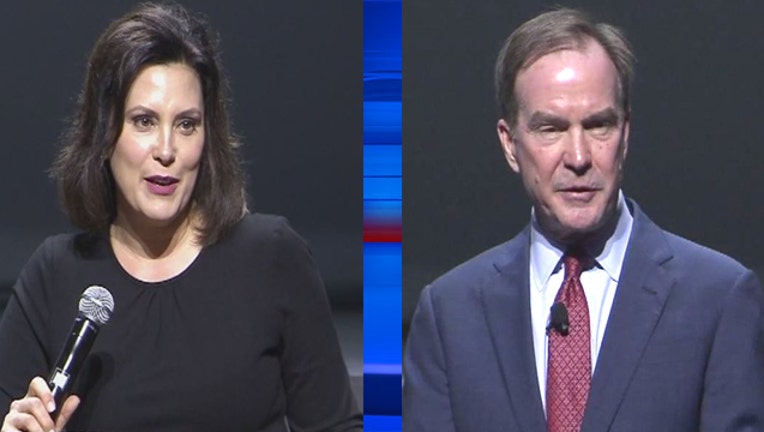 FOX 2's Kellie Rowe will be live on Facebook with results starting at 9 p.m. Check it out on our Facebook page here.
Gretchen Whitmer has been projected as the next governor of Michigan.
The Democrat formerly served in the Michigan State Senate, representing District 23 from 2006 to 2015. DUring the final four years of her time in the state Senate she served as minority leader and did not seek re-election in 2014. Before her time in the Senate she served in the Michigan House of Representatives from 2001-06.
Democrat Gretchen Whitmer says Michigan "deserves better" from the next governor -- improved schools, smoother roads, healthier drinking water -- and her legislative vote to expand health coverage to low-income adults is proof that she can fix long-unaddressed problems.
The last time the state consecutively elected governors from the same party was the 1960s. Most polls had shown Whitmer to be in control of the race that Democrats are hungry to win after having no power in Lansing for nearly eight years and losing the state to Donald Trump two years ago.
Whitmer, 47, of East Lansing, worked as a lawyer at a Lansing firm for two years before being elected to the state House in 2000 and the Senate in 2006. She was in a minority caucus the entire time and, when Snyder and the GOP had control, criticized their agenda that included slashing business taxes while raising them on individuals and passing right-to-work laws to curb the power of unions.
She has praised Snyder, however, for the expansion of Medicaid to 660,000 people despite opposition from within his own party to a key tenant of the Obama-area federal health law. She voted for the expansion program.
She casts herself as a bipartisan leader who can resolve some of Michigan's longstanding problems while criticizing many of Schuette's moves as attorney general. Her common campaign refrain: "fix the damn roads" with $2 billion in additional spending, which may be funded with higher fuel taxes or government borrowing.
Whitmer outraised and outspent Schuette. She spent $4.6 million to his $2.9 million between the primary and Oct. 20. Whitmer had raised $12 million for the cycle, Schuette more than $8 million. She also had more cash on hand for the closing stretch.
Republican strategist Tom Shields said voters had a negative perception of Schuette following a GOP primary that was markedly more bruising than the Democratic contest. Whitmer is viewed more positively, he said, and Schuette -- who has welcomed the backing of Trump -- was unable to make her "unacceptable" to women and independents favoring Whitmer by substantial margins.