Michigan has highest PFAS contamination in the country by large margin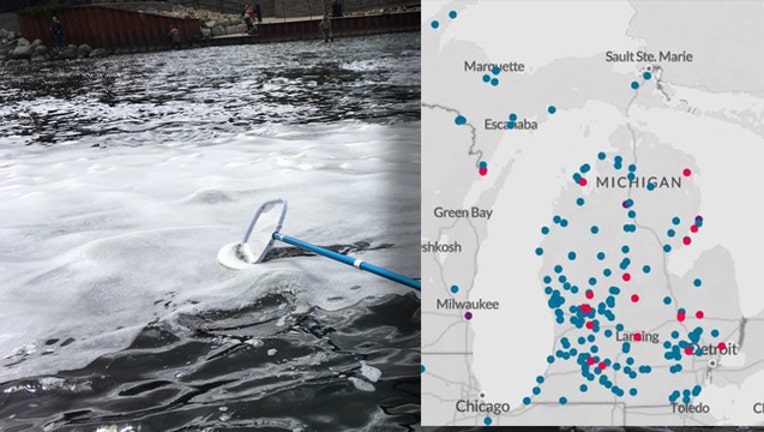 DETROIT (FOX 2) - In the past year, the United States PFAS problem has more than tripled from 172 to 610 locations - and Michigan has more contamination sites than any other state, according to new data just released.
New data released by the Environmental Working Group (EWG) shows contamination of the toxic fluorinated compounds known as PFAS is growing at an alarming rate. EWG reports that, as of March 2019, there are at least 610 locations across 43 states that are known to be contaminated.
Compare that to the last time the map was updated in July 2018 when there were just 172 contaminated sites in 40 states. EWG cautions that the update draws on new data sources so it's not directly comparable with the previous edition.
Regardless, the crisis is growing with over 600 contamination sites, especially in Michigan.
Across the Lower and Northern Peninsula, there are 192 known contamination sites. EWG says is actually reflective of the state's more comprehensive testing program than what other states are using. The second highest state is California with 47 known contamination sites while New Jersey has 43.
INTERACTIVE MAP: Is there a PFAS contamination site near your home?
PFAS - perfluoroalkyl and polyfluoroalkyl substances - is often referred to as forever chemicals - they have been linked to cancer, birth defects and liver damage. They are used in a number of consumer products and have been around since the 1950s including in non-stick cookware and food wrappers. But environmental experts didn't know a lot about the harmful effects until the early 2000s.
EWG says manufacturers have replaced them with chemically similar, largely untested compounds that may be no safer. 
In 2018 the Michigan Department of Health and Human Services issued a "do not eat the fish" advisory due to elevated levels of PFAS for all fish in the Huron River, a river that runs through five counties including Oakland, Washtenaw and Wayne.
Additionally visitors at the river should avoid swallowing it, though an accidental intake is not considered a health concern. 
Beyond that, HHS have also said anyone who touches foam from PFAS should wash it off. The concern is inadvertently transferring the chemicals into a person's mouth while eating.
The Michigan Department of Agriculture and Rural Development recommends that you not let your pets, especially dogs, come into contact or swallow the foam. You should also throughly rinse your dog after contact with the foamy water, as they can still swallow faom that's on their fur while they groom themselves.
Last summer, MDHSS issued a do not eat advisory for fish from the Huron River. That ban was originally for a chain of lakes along the river in Oakland, Livingston and Washtenaw counties. The ban was later expanded to all fish in the Huron River in Livingston, Oakland, Washtenaw, Wayne, and Monroe Counties. 
Potential health effects are high cholesterol, increased liver enzymes, decreased vaccination response, thyroid disorders, pregnancy-induced hypertension and preeclampsia, adverse reproductive and developmental effects, and cancer.
It has been determined that touching the fish or water and swimming in the waters is not a health concern. 
Information from the Associated Press was used in this report.