Michigan leaders, residents unite to show solidarity with Israel
SOUTHFIELD, Mich. (FOX 2) - Michigan organizers, politicians, and residents gathered in solidarity of Israel at a synagogue in Southfield on Oct. 9. Over 2,000 people were in attendance of the event, held by leaders of the Jewish Federation of Metro Detroit at the Congregation Shaarey Zedek.
The gathering was organized following Hamas's surprise attacks in Israel that left hundreds dead over the weekend.
"What we saw on Saturday was sheer terrorism and we must call it out," said CEO of the local Jewish federation, Steven Ingber.
Governor Gretchen Whitmer and Sen. Gary Peters were also in attendance, condemning the violence and calling for the support of Israel.
"In Washington, we must act swiftly to pass a bipartisan legislative package to give Israel all the support that they need," Sen. Peters said.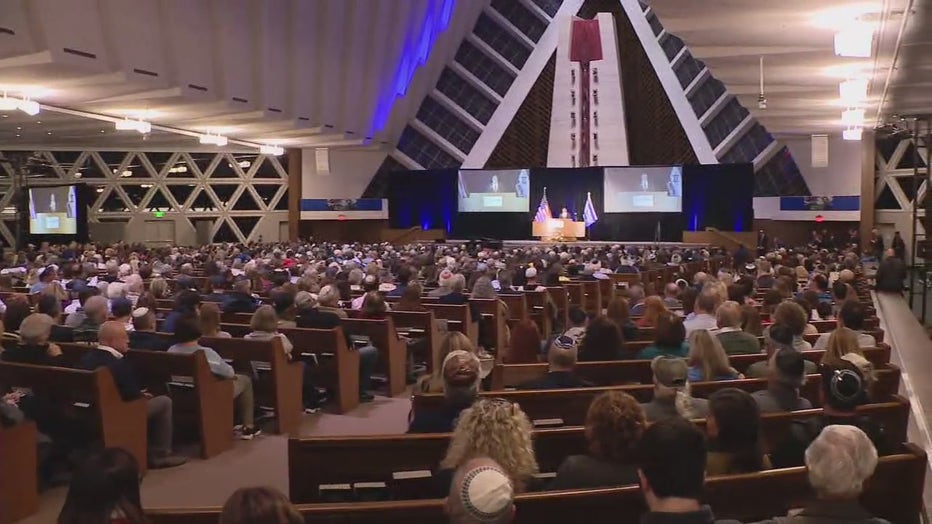 Since the attacks in Israel on Oct. 7. metro Detroiters are showing solidarity.
Lior Zisser-Yogez of Bloomfield Township said her 27-year-old brother, a commander in the Israeli army, was killed during the recent conflict overseas. 
"Eli led his team in an operation attempting to rescue families and civilians held captive by terrorists," Zisser-Yogez said during the event. "Eli was hit and killed along with other soldiers."
Over a thousand people have died in Israel since Saturday's attacks erupted, according to authorities. In Gaza and the West Bank, over 830 people have been killed.
Other events and demonstrations in support of Israel and Palestine have taken place throughout metro Detroit.  
Near 14 mile and Orchard Lake in West Bloomfield, dozens showed up on Monday to protest the violence alongside End Jew Hatred, an organization dedicated to fighting antisemitism. 
"Terrorism and hate has no place in the free world," said Rep. Haley Stephens during the rally.