Kristina Karamo elected as new Michigan Republican Party chair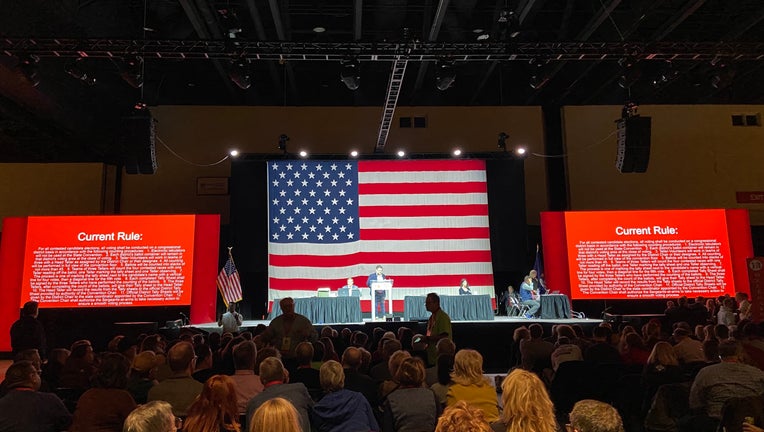 article
LANSING, Mich. (FOX 2) - After three rounds of voting and a long day of political jockeying, Kristina Karamo, the former candidate for secretary of state won the race for Michigan Republican Party chair. 
She beat out Matt DePerno, the former candidate for state attorney general. It's a remarkable elevation for a figure who was relatively unknown within her own party before announcing her intention to run for office two years ago.
It also leaves the Michigan GOP in an unknown position following a string of losses in the 2022 midterm election and the elevation of candidates who previously promoted conspiracy theories about election integrity. 
Karamo won by a 16 point margin 58-42 over DePerno. Her victory came as the GOP bumped up against their time limit at the Lansing Convention Center, after going hours over the original time reserved for the convention.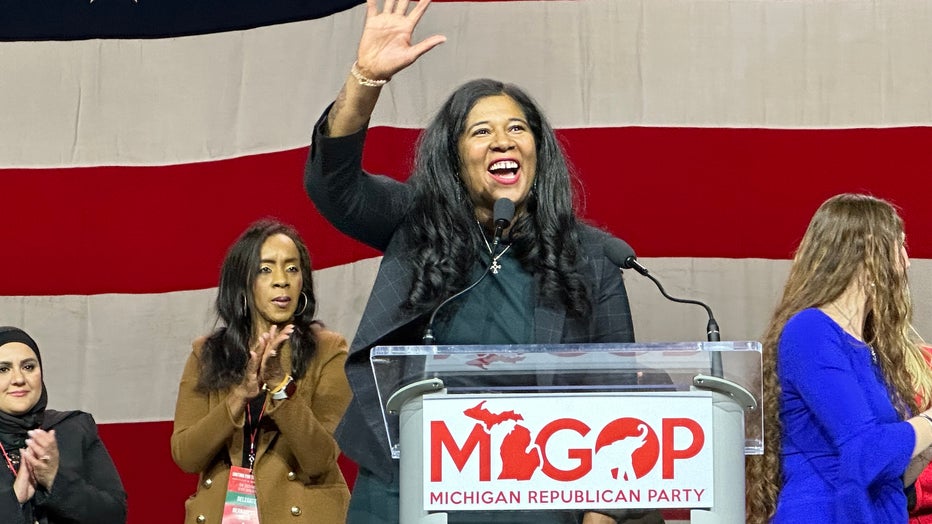 In a brief victory speech, she thanked God, the other candidates, and pointed attention to the 2024 race. 
Karamo's victory is also emblematic of a larger story playing out in the Michigan GOP, which has been searching for a direction since the previous election.
Earlier in the day, nine candidates, from local trustees and county commissioners to former candidates for statewide office all pitched themselves in front of a crowd of thousands of delegates, as conservative voters envisioned what the future of the Republican Party in Michigan will look like. 
As far as delegates were concerned, the 2024 election started this weekend.
Both DePerno and Karamo, who have seen their presence in the party rise in recent years following their midterm campaigns, scored some of the loudest responses from the crowd when they were introduced, along with some jeers.
"Melinda and I have one reason to be chair and co-chair," Karamo said, referencing her running mate Malinda Pego. "That is our children's future."
Karamo lost in her race for the secretary of state office by 14 points, a race she has declined to concede. More cheers rang out when she reminded the audience as such. 
DePerno, who ran alongside former gubernatorial candidate Garrett Soldano, was nominated by State Rep. Angela Rigas. Lena Epstein, who dropped out of the race for chair also threw her support behind former candidate for Michigan attorney general.
When both candidates came on stage, they were joined by former President Donald Trump's attorney Christina Bobb, while a video of Trump endorsing DePerno for the seat played in the background.
The Feb. 18 nominating convention helped determine the Republican Party leadership for the next two years. 
After tough losses in the 2022 midterm election cost the party the legislative control, three ballot propositions, and races for governor, secretary of state, and attorney general, many considered the party at a crossroads.
"Our stand is our Republican Party is devastated. They're defunct and no one trusts our party," said Macomb County Republican Chair Mark Forton. "We've got to rebuild it."
Forton was among the original 10 candidates for state party chair, before also dropping out.
The first round of voting started around 2:15 p.m. A second round of voting took place around 5 p.m. A final round began around 6:30 p.m. The night wrapped up around 7:45 p.m.
Prior to hearing from any of the candidates, delegates spent the first three hours of the convention debating rules for voting. At the core of the issue was how votes should be counted during the convention. 
The party has since settled on counting every ballot by hand over concerns that electronic tabulators could not be trusted. 
Debate over the rules stirred shouting at times from delegates - and also created a time crunch for the party after it needed to negotiate a four-hour extension from their original contract with the venue. 
Earlier in the day, SCott Greenlee, who came third in voting, said he expected disagreements to reveal themselves during the convention. But it was what came after, that mattered.
"Will we have a family fight along the way? Of course. And that's okay and that's actually healthy and drives ideas," he told FOX 2 Detroit before the convention started.
Greenlee had pitched himself as someone who had inroads with donors that could help a cash-strapped party, while also having met new delegates that will be casting votes at the convention.
The tension between grassroots and donors that has stewed over the past few years has bubbled over in recent months.
Michael Farage, who also ran for the leadership seat expressed hostility toward the "former donor base" during his speech. 
RELATED: Calls for unity amid divided field as Michigan GOP gears up for convention
One delegate supporting Billy Putnam, who is the Tuscola County Republican Chair, said he liked his small town roots.
"I like him because he's hardworking, not connected to the establishment, and he's his own man," said Jake Geiselhart earlier Saturday. "A lot of these guys are connected to seats of power, either in the state or federally, and I just don't like that."