Mom says pat-down at DFW Airport left her son traumatized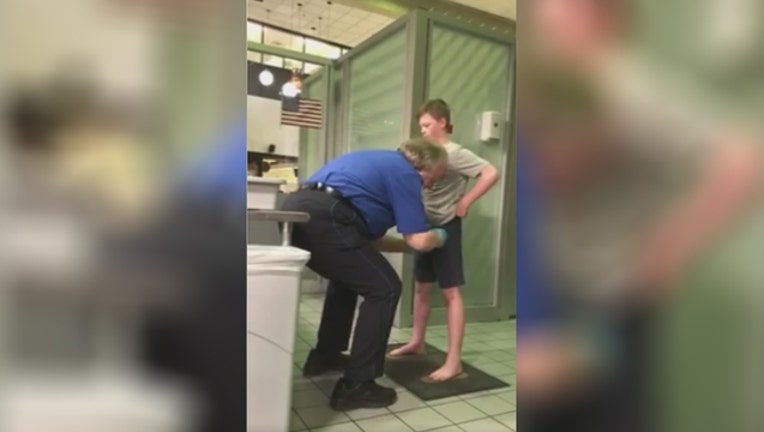 article
DALLAS - A mother is upset about the way her son with special needs was treated by TSA agents at DFW Airport.
Jennifer Williamson from Louisiana posted the video on Facebook and has gotten more than a million views. In the post, she said her son Aaron was detained and they were "treated like dogs" because she requested agents screen him in other ways per TSA rules.
Williamson said her son went through the metal detectors just fine, but she didn't want him to have to endure an invasive pat-down because he has a sensory processing disorder.
"I wish I had taped the entire interchange because it was horrifying," she wrote. "We had two DFW police officers that were called and flanking him on each side. Somehow these power-tripping TSA agents who are traumatizing children and doing whatever they feel like without any cause, need to be reined in."
Mike Restovich, a TSA expert, told FOX 4 what the video shows is exactly the new procedure implemented by the TSA. He explained when Williamson said her kid had special needs during the screening process, it basically required TSA agents to go through the full body pat-down. If someone is over the age of 12, they are treated the same as an adult.
Restovich said the officer did everything right according to the TSA rules, but he should've explained to the mother what would happen when she asked for a different screening for her child.
"The officer should've explained to the mother exactly what was getting ready to happen," he said. "There is no reason why the officer didn't' go into some detail to explain to her that this is a pretty enhanced pat-down when you have to go head to toe and not go through any of the electronics."
In a statement to FOX 4, a TSA spokesperson said the pat-down and "all approved procedures were followed to resolve an alarm of the passenger's laptop."
The spokesperson said the TSA officer was instructed by his supervisor who watched the entire procedure.
"In total, the pat-down took approximately two minutes, and was observed by the mother and two police officers who were called to mitigate the concerns of the mother," the statement read.
Willamson says her son was detained for well over an hour, but TSA says they were held for 45 minutes, including the time it took to discuss screening procedures with her and to screen their carry-on items.