Moose population exploding on Isle Royale as wolves decline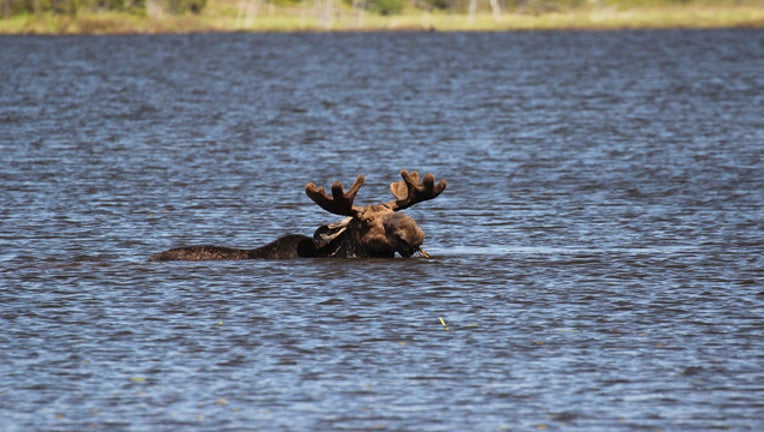 article
TRAVERSE CITY, Mich. (AP) - With only two wolves left to feast on them, the moose of Isle Royale National Park are undergoing a population explosion that could endanger the wilderness area's fir trees and eventually cause many of the moose to starve, scientists said Tuesday.
The unchecked growth of hulking moose at the Lake Superior island park shows the need to take more wolves there, restoring a predator-prey balance that has benefited both species and the park's ecosystem, Michigan Technological University researchers said in a report. The National Park Service is considering options to restore the wolf population, but hasn't committed to doing so.
Twenty-four gray wolves in several packs roamed the Michigan park as recently as 2009. But the severely inbred population has dropped steadily and is at its lowest point since biologists began observing the relationship between wolves and moose in the 1950s.
During their annual winter sojourn on the island, scientists Rolf Peterson and John Vucetich conducted aerial surveys and estimated the moose population at 1,600. It could double over the next three to four years unless more wolves arrive soon, they said.
A dip in wolf numbers during the 1990s allowed the moose to approach 2,500. About two-thirds of them died of hunger during a bitter winter in 1996.
Peterson said the park's balsam fir trees, the preferred food for moose during winter, are being overeaten. Balsam fir is the predominant tree of Isle Royale and has long characterized its landscape.
"It's a race between the slowly growing trees and the rapidly growing moose," Peterson said.
Northern Michigan University scientists reported in 2015 that moose browsing had gradually thinned the park's forests and converted some areas to grassy plains.
Isle Royale consists of one island 45 miles (70 kilometers) long and hundreds of smaller ones. Moose are believed to have arrived there around the turn of the 20th century, while wolves likely crossed ice bridges from the mainland in the late 1940s.
The two surviving wolves, a male and a female, are aging and unlikely to reproduce.
In another sign of the wolves' decline, the island's population of another prey species -- beaver -- has reached about 300, the highest total on record.
A park service report in December listed four alternatives for dealing with the wolf shortage, including letting them die out. The agency said its preference was to relocate 20 to 30 wolves to the island over three to five years.
A public comment period ended in March. The park service is expected to make a decision this fall.