New center in Detroit aims to provide homeless with healthcare, place to recover
DETROIT (FOX 2) - Linda Little is a nurse and the president and CEO of Neighborhood Service Organization. She's determined to ensure Detroit's unhoused residents get the healthcare they need at the new Detroit Healthy Housing Center at Mack and Gratiot.
"Everybody deserves a safe place to live and thrive and enjoy life - that's a basic human need," she said. "Eighty percent of the population that we served had really serious complex medical issues on top of being housing insecure."
Little said that means people who are sick and unsheltered circle through hospitals and emergency rooms at a cost five times that of the average person because they have nowhere to go to recuperate.
"It is extremely difficult to find a place for them to go, and they deserve a place to go other than the streets or a shelter, where they need continuing care," Little said. "We can now say that we have healthy housing in the city of Detroit, to change how we treat people, with dignity and respect and promote equity for all."
This is what the Detroit Healthy Housing Center will provide, with 56 beds, a place to get well, and get other services.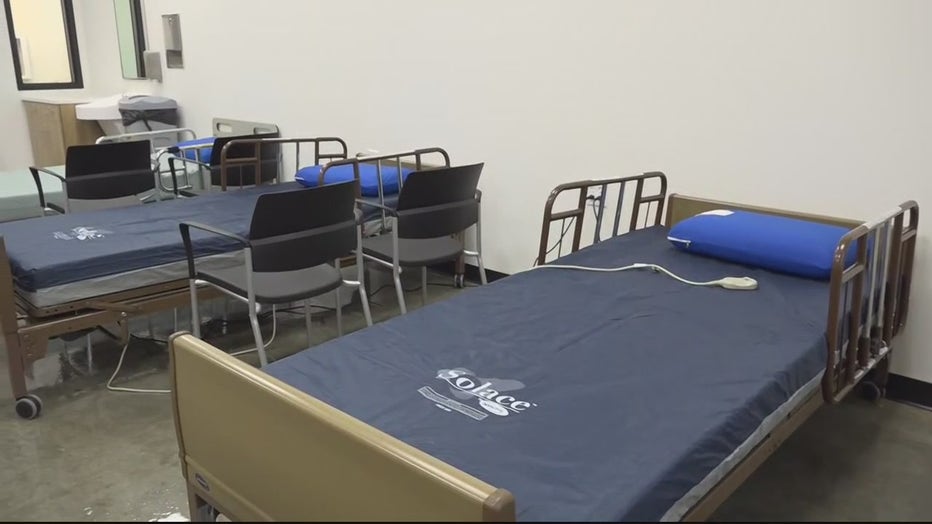 "The DHCC will provide critical services to unhoused Detroit residents - medical care, wraparound supports, temporary housing, medical rescue, food support, and workforce development. This holistic approach reminds us the fight against homelessness is a marathon, not a sprint," said Lt. Gov. Garlin Gilchrist.
This is the second phase of the Detroit Healthy Housing Campus. The first phase, the Clay Apartments, has been housing for the formerly homeless since 2020.
"On the corner of Mack and Elmwood is the Clay Apartments. It houses 42 people. That means 42 people came from the street, through the shelter system, and are no longer part of the shelter population, and we should be proud of that," said Allah Young, a former Neighborhood Service Organization client who is now a board member.
Young also lives at the apartments. It's all part of a concerted effort between shelters, the city, the state, and other stakeholders to end homelessness.
"We're trying to connect you to long-term housing solutions and at the same time deal with the totality of the circumstances that are holding you back, whether it's helping you get your birth certificate, your vital records, all of the things we can do to connect you to employment," said Detroit Deputy Mayor Todd Bettison.
An effort that is challenging - an estimated 7,800 people are unsheltered in Detroit. Almost 1,800 of them are considered chronically unhoused, but the DHCC is working to change that.
"If it can happen for me, I'm just a human being like everybody else, and I think I'm kind of cool but you know," Young said. "It can happen for everybody else."