Niagara Falls daredevil might have died in plunge with snake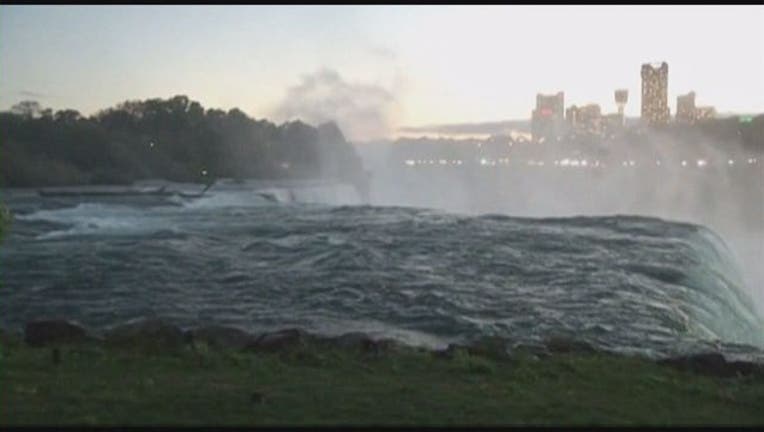 article
NIAGARA FALLS, N.Y. (AP) - A daredevil who died after plunging over Niagara Falls in an apparent stunt with an inflatable ball might have brought a boa constrictor along for the ride.
After Kirk Jones' death, New York State Park Police found a website with a photo of him and the 7-foot snake named Misty previewing his plans and selling T-shirts and photos, the Niagara Gazette reported Wednesday.
"Believe in the Impossible Kirk Jones + Misty Conquer Niagara Falls NY 2017," read the site, which has since been taken down.
Jones' body was recovered from the water below the falls on June 2.  Investigators believe he died April 19, the same day tourists spotted an 8-foot plastic ball, its zippered hatch clearly open, spinning in the Niagara River rapids before it went over the brink.
Man dies in Niagara Falls after surviving plunge in 2003
The snake hasn't been found, though an empty snake cage was found in Jones' parked van. Exotic-pet experts told police it wouldn't have survived the cold water.
Footage from a crashed drone belonging to Jones, found by a parks employee April 20, shows only rushing water.
Police began looking for Jones after the discovery of the ball and drone and after a call from Jones' wife telling them she feared her husband had gone over the falls. That led to the discovery of the website: www.kirkjonesniagarafallsdaredevil.com.
"We were looking for him and a 7-foot boa constrictor," Park Police Detective Sgt. Brian Nisbet said.
Police don't know whether Jones fell or climbed out of the ball before reaching the brink.
Jones, 53, became the first person known to survive the plunge over Niagara Falls without a safety device in October 2003, when he climbed over a rail and into the water in an apparent suicide attempt. The feat brought fleeting fame for the then-unemployed salesman from Canton, Michigan, and a brief stint in the circus, but he had been out of the public eye in recent years.
Police listed his most recent address as Spring Hill, Florida.
Although such stunts are illegal, several daredevils have survived trips over Niagara Falls in various contraptions, beginning with Annie Edison Taylor, who rode over in an oak barrel in 1901.
At least two other men have survived unprotected plunges since Jones did it.