No-show fence builder's excuses are indefensible
FOX 2 (WJBK) - You know the saying 'good fences make good neighbors'? Most people do. But what about 'no fences make angry customers'? That one's probably new but that's the experience many homeowners have had with a Metro Detroit fence company.
The customers we talked with said they really liked Laura Dietz, the owner of Dietz Fencing in Macomb County. They trusted her and they gave her money. And then, she didn't exactly deliver.
Laura likes to change her appearance a lot - from her mugshots to photos that some of her customers took, she looks a bit different. But what she doesn't change is how much she likes taking deposits from her customers and then not building their fences.
"The only thing I can believe is she took our money and ran," one customer, Jason, said. 
"She had never pulled a permit to install a fence. So she honestly never had any intention of putting a fence in," customer Kim said.
So when could she put that fence in? Every time we saw Laura, she's either going to court or the police station. 
"So are you going to be able to pay these people back, Laura?" we asked as she passed through a metal detector at court.
According to a Facebook post, she says she's been in business for 14 years and it wasn't always this way. Or was it? Not according to old judgments.
Steve just wanted a fence for his backyard in Macomb Township and hired a local company in Dietz Fencing. Laura even came out to measure and give him an estimate and Steve was sold.
He gave $8,000 for the $14,470 job and then said she went off the radar. So, Steve went to the sheriff's office to file a report.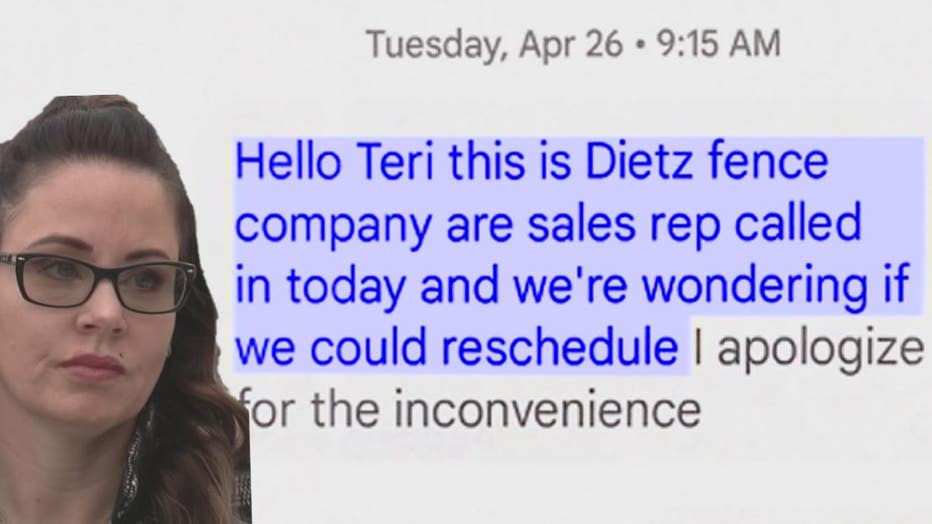 "They already knew her name which is another red flag. It made my stomach drop," Steve said.
The cops tried contacting her multiple times but they also never got a response. 
Kim also gave Dietz money in March: $2,200 for a job that never got done.
"Every time I called her, I texted her. I got nothing in return," Kim said.
By the time the summer ended and she still had no fence, Kim filed a report with the sheriff. Who, again, had a hard time reaching Laura.
The deputy said in the report: "I tried calling the business line for Deitz Fence but received no answer and was unable to leave a message due to the voicemail box being full."
Teri had a rickety fence that was made up of pallets and needed a new one fast so she contacted Dietz too. She was supposed to pick out her fencing only to get a text from Laura: "Hello Teri.  This is Dietz Fence Company. Our sales rep called in today and we're wondering if we could reschedule."
Teri replied no problem. But that ended up being a problem that repeated itself for months.
"She goes, 'I'm going to call you on the 11th for an installation date.  The 11th came and went ... nothing," Teri said.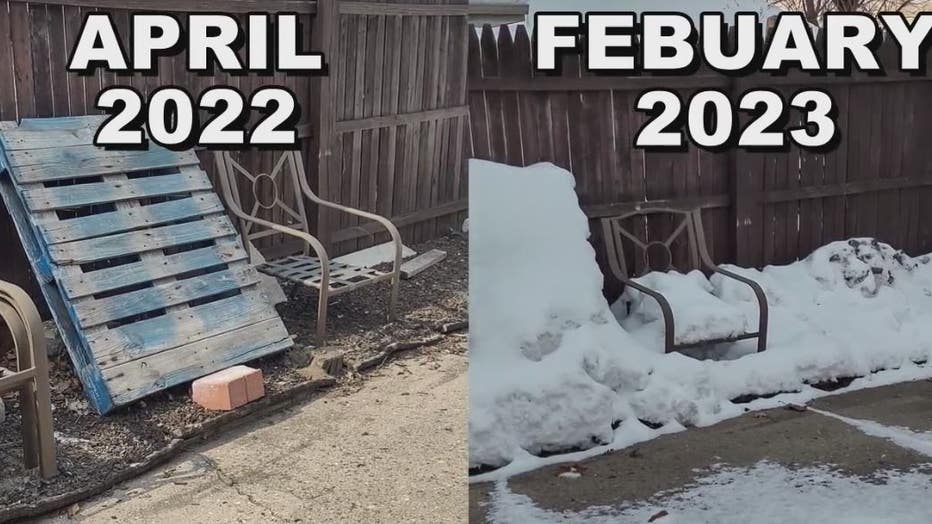 She never got a fence and, as of February, her old fence is still being held up by pallets.
Jason trusted Laura so much he paid her $7,500 in full upfront. That's a bad idea. Now he's out $7,500 and has no fence.
"We told her perception is reality and unfortunately, our perception is Dietz Fence sucks and we believe that they conned us out of money and took it and ran."
Jason's neighbor, Wissom, thought since Jason was getting a fence, he would hop on too. He gave Laura $2,800. Now they're not sharing a fence but they're sharing a miserable experience.
"You're taking money from my family.  This is my kid's money that you're taking away to do. I don't know what you're doing with it but it's not right," Wissom said.
Then there's Corinne. She's been fortunate to actually have communication with Laura - and actually got a fence.
"She has a habit of making things very hostile in a way that most people are not used to," Corinne said.
But the gate was garbage, which Corinne said Laura agreed about. She even promised that someone would be at Corinne's house in the morning to repair it but no one showed until 7 hours later!
"We left to go to work because we had missed work, skipped work for nothing we felt, got home and the gate was gone."
Security camera video shows … exactly that. A man walks up, takes the gate off, and leaves. He never comes back.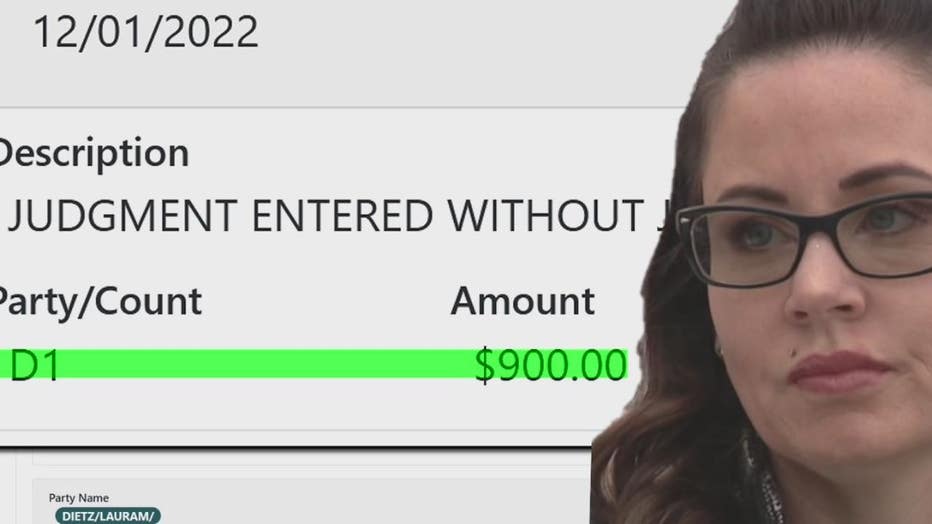 Corinne and her fiancé sued and won a judgment but say Laura hasn't paid.
But that's the least of deadbeat Dietz's problems. She's been charged with four felony counts of taking money under false pretenses for some of the jobs she bailed on and has pleaded not guilty.
We were able to catch up to her on the way into court but she just kept pushing us off to her lawyer. But there sure are a lot of people who would like some kind of an explanation. 
So we waited for them to come out of court and asked her again what happened with her business.
"She's not going to discuss," her attorney said. "The only thing I can tell you is we're paying the people back That's where we're at.  We're not going to discuss the case any farther okay?"
Some of her customers wasted a whole year waiting so what's happened to their money?
The question we asked her is simple enough: why didn't she communicate with the customers – including Jason who said he's out $7,500.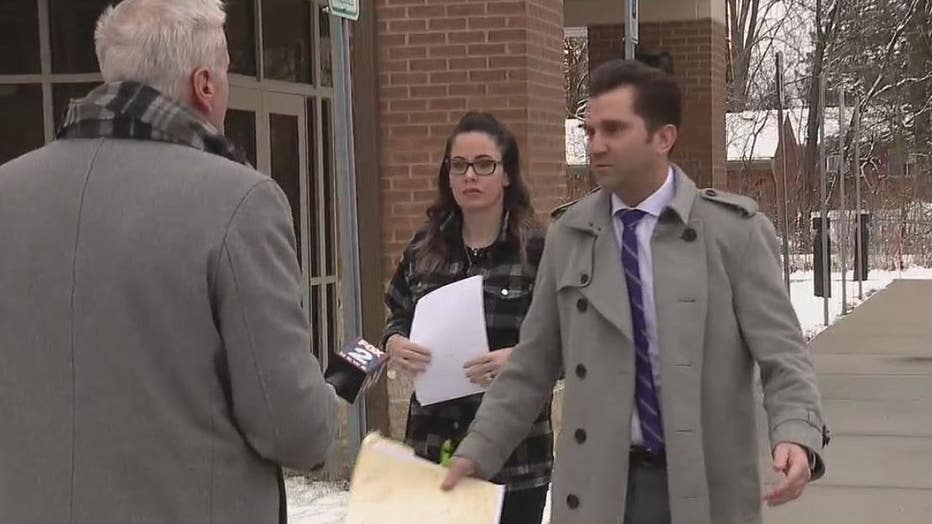 Her attorney said she's been in communication and Laura herself said something.
"He's been paid back some of his money," she said.
Jason said his credit card company refunded some of the money with no help from Laura. But his neighbor, Wissom, got a refund. That's the one person we know of who got their money back.
Laura wouldn't explain why others didn't get the refunds too.
As we were working on this story, another felony charge was added to her list of offenses. She now faces five counts of false pretenses. She's pleaded not guilty and her attorney says she's planning to pay everyone back.
We never got an explanation about what happened to all that money. 
So it seems there's no de-FENCE for Dietz Fence. Laura's in the HHHHallll of SHHHAAAAAMMMMEEE!