Owner leaves heartbreaking note with paralyzed dog at Florida shelter door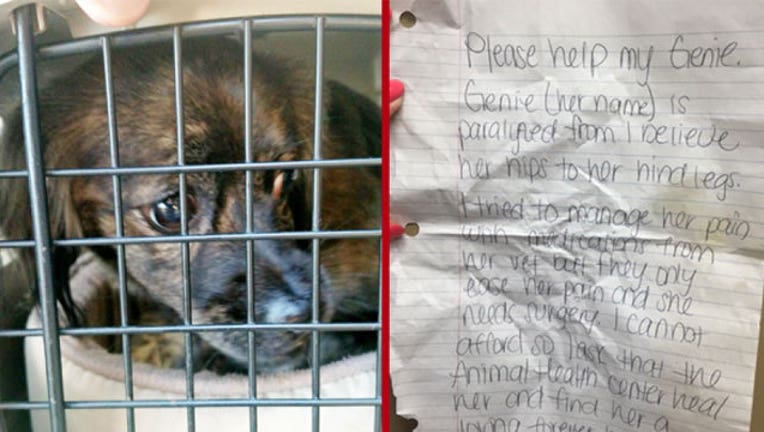 article
A simple note left with a paralyzed dog who was abandoned on the steps of a Florida animal shelter is tugging at heartstrings across the nation.
"Please help my Genie," read the note, which My Fox 8 reported left employees at the Humane Society of Tampa Bay crushed.
"Genie (her name) is paralyzed from I believe her hips to her hind legs," continues the note, which was left by her anonymous owner. "I tried to manage her pain with medication from her vet, but they only ease her pain and she needs surgery. I cannot afford so I ask that the Animal Health Center heal her and find her a loving forever home. Thank you."
On Tuesday, the Humane Society posted a status update on Facebook with a photo of little Genie, who appears to be a brown and black mutt, along with a photo of the note, written on crumpled notebook paper.
"We will care for Genie," the Humane Society's Facebook update reads. "We will do our best to heal her body and mend her grieving heart. We will give her a second chance and find her a loving home. Will you help us? Give today, in honor of Genie, and for the thousands of homeless, broken, and abandoned pets who will follow after her."
My Fox 8 reported that on Friday, May 8, the organization had raised more than $20,000 for their animals, including Genie.
Read more on FOX NEWS.