Police deploy stop sticks to catch fleeing Dodge Charger and arrest three suspects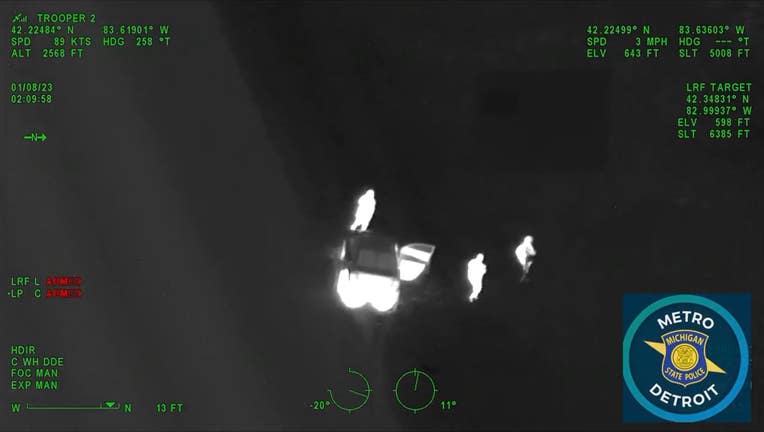 article
HIGHLAND PARK, Mich. (FOX 2) - Reports of street racing in Detroit eventually led to the arrest of three people involved in a high speed chase with Michigan State Police over the weekend. 
The suspects were caught after the police department's chopper managed to track the fleeing Dodge Charger from Detroit to Washtenaw County - including one being found in a dumpster.
The chase was posted on Twitter along with a breakdown of the chase and arrest.
It started around 12:30 a.m. Sunday morning on Woodward near Davison in Highland Park. While on patrol, officers working in partnership with state police heard over their scanner of an estimated 40 vehicles that were drag racing in the area.
A short time later, they spotted a group of speeding Dodge Chargers traveling southbound from Davison. Police attempted a traffic stop that was ignored as one Charger immediately fled. The suspect ran several red lights and even shut off their own vehicle lights, prompting police to discontinue the chase. 
MORE: Missing Detroit barber David Woodger has been found dead, family says
Instead, police deployed Trooper 2, a police helicopter to track the suspect vehicle. It followed the suspect as it traveled throughout Detroit and eventually onto I-94 toward Ann Arbor. While coordinated between MSP districts, police eventually used stop sticks at the Washtenaw-Wayne county line.
Eventually the suspect vehicle came to a stop and three people fled the car on foot. All three were tracked down and arrested without incident. 
The license plate was also found inside the vehicle. All three occupants were from Jackson and were taken to the Detroit Detention Center.