Police searching woods in Macomb Twp. again related to 'unsolved homicides'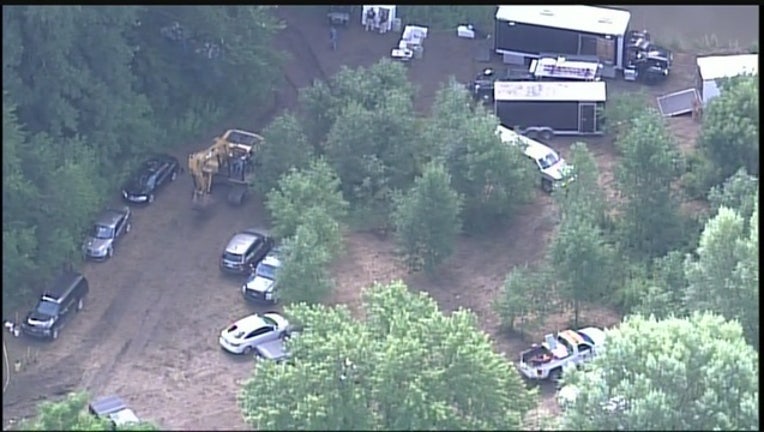 MACOMB TOWNSHIP, Mich. (FOX 2) - More than a year later, digging has resumed in Macomb Township where police say they could find the remains of several missing young girls in the woods, who disappearances date back to decades ago. 
Police from Warren, the FBI, and other law enforcement agencies began digging Monday through the woods in Macomb Township on the north side of the Clinton River, just south of 23 Mile Road. The property was once frequented by convicted child rapist and murderer Arthur Ream, a 70-year-old serving life in prison for the 1986 disappearance and death of 13-year-old Cindy Zarzycki. 
Dozens of authorities are out there right now searching the area, which is near the land authorities searched for several days last spring, in May 2018. 
Authorities haven't said yet officially what they're looking for in particular during this search, except to say they're continuing the investigation on unsolved homicides. 
"Multiple investigations have led us to this location and we are hoping to bring justice to victims and closure to their families," a press release from the Warren police department said.
In 2008, Ream led police to this area, where they found Cindy's remains. 
Investigators say Ream is a serial rapist and killer and Warren Police Commissioner Bill Dwyer says they believe several more bodies of missing girls could be buried there as well. 
Ream was convicted in the murder Zarzycki, who went missing in April 1986 after agreeing to meet Ream at a Dairy Queen in Eastpointe. 
| RELATED: 
Woman believes missing sister's remains are in Macomb Twp. dig location
Prosecutor of child killer Arthur Ream: he is leading police on wild goose chase
Police: As many as 6 girls could be buried in Macomb Twp woods
In the 19 years since Zarzycki went missing, Ream had been convicted of raping a 15-year-old girl. He led investigators to the field where they found Zarzycki's body in a shallow grave.
Ream was convicted of her death in June 2008 and is currently serving a life sentence.
This is a developing story. Stay with us for updates.