Police: Warren woman left puppy in dumpster, led officers on chase before crashing
FOX 2 (WJBK) - Police say a Warren woman caused a traffic crash and abandoned a puppy in a construction dumpster while attempting to flee authorities in Farmington Hills last week.
Selena Maria Martin, 25, was arrested after driving on a suspended license, speeding, refusing to stop for police, and then crashing and fleeing her wrecked vehicle on Nov. 8. Officers stopped her by setting up a perimeter in the area of Orchard Lake and 12 Mile Road.
Once Martin and a 14-year-old who had been in the vehicle with her were taken into custody, officers received reports that the suspects had abandoned a puppy in a construction dumpster because it was slowing their escape. The puppy was recovered safely and has been adopted, according to officials.
The incident started with police attempting a traffic stop on Haggerty Road near 10 Mile Road. Martin then accelerated away from the officers, weaving between vehicles and driving into oncoming traffic, police said.
Officers called off the pursuit shortly after due to the high rate of speed. Police in the area reported seeing the suspect's vehicle going over 100 mph on M-5 and passing vehicles on the shoulder. The vehicle exited at Grand River Avenue and continued recklessly, where it continued to northbound Orchard Lake Road at more than 80 mph.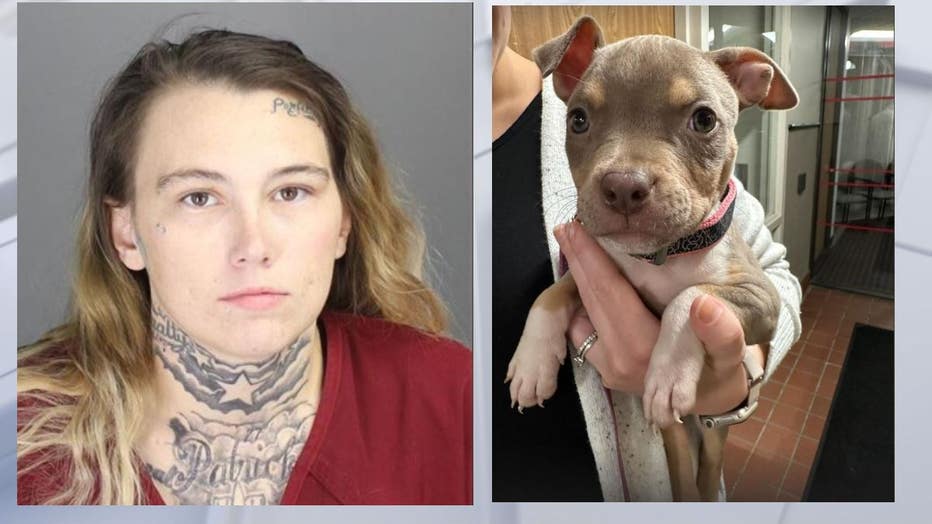 Selena Martin, left, and the puppy recovered.
Police Chief Jeff King was stopped at a red light in his personal vehicle and witnessed the suspect speeding through the area. Martin eventually crashed into a bystander's vehicle, heavily damaging her car from which she and her passenger fled on foot. The two suspects then tried to steal another man's car before their arrest.
Officers found that no one was injured in the civilian vehicle that was hit by the suspect.
Police began to check dumpsters in the area and recovered the puppy unharmed. The puppy has been adopted by a community member, who wishes to remain anonymous.
"We've seen an alarming increase in the number of incidents of fleeing from police," said Chief Jeff King. "It's concerning that even when police terminate a pursuit, the fleeing suspects still feel emboldened to continue their reckless behavior and put community members in significant danger. This type of dangerous, criminal behavior will not be tolerated in the City of Farmington Hills."
Martin has been previously convicted of fleeing and eluding police on two other occasions, most recently on Aug. 5, 2021 in the 6th Circuit Court and on Sept. 10, 2021, in the 3rd Circuit Court.
On Nov. 10, 2023, the investigation was submitted to the Oakland County Prosecutors Office for review, which authorized a two-count warrant of one count of felony Fleeing and Eluding and one count of misdemeanor Driving While License Suspended.
Martin was arraigned before Judge Brady of the 47th District Court and a $10,000, 10% cash surety bond was set. Martin is scheduled for a pre-exam conference on Nov. 22 at 9 a.m. Martin remains in custody at the Oakland County Jail.