Preschooler writes heartbreaking obituary before dying of rare cancer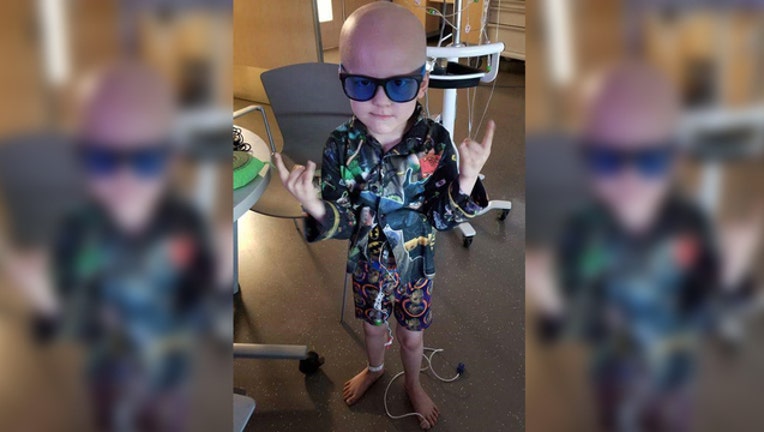 (WJBK) - Garrett Matthias lived just five years on this earth when a rare form of pediatric cancer took his life, but the boy left a lasting legacy behind in the form of his obituary - that he authored.
For nine months, the Iowa boy fought for his life against a rare form of pediatric cancer. Once doctor's told the family that the cancer was terminal, they talked to their very young son about how he wanted to be remembered.
"We never necessarily talked about his funeral, so we never had the conversation with him that he was going to die but we had a lot of conversations around, 'when I die I want to do this,'" Garrett's mom told WHO-TV.
The obituary starts with him introducing himself as Garret Michael Boofias, a name too difficult for him to pronounce. Then he names his favorite people: "mommy, daddy, sister, the grandparents with the new house, the grandparents with the camper, and Stinky Uncle Andy".
The 5-year-old boy was a fan of thrash metal, and superheroes, especially "Batman…and Thor, Iron Man, the Hulk and Cyborg". He wanted to be a professional boxer when he grew up.
"That`s him speaking. Those are his words verbatim," Ryan smiles. "When I read it . I'm just like 'wow'. Sounds like Garrett just yapping at me."
His heartbreaking obituary detailed all the things he loved and the things he didn't - including the cancer treatment. He said when he died he was "going to be a gorilla and throw poo at Daddy!" But his final words had some unique requests.
He didn't want a funeral because they're sad. Instead, he asked for five bounce houses (one for each year of his life), Batman and snow cones. 
He also wants an Asgardian funeral similar to one in Thor, one of his all time favorite movies, and asked to be cremated: "Burned or Buried: I want to be burned (like when Thor's Mommy died) and made into a tree so I can live in it when I'm a gorilla".
The family is holding a a celebration of life on Saturday in their Iowa city and said a private burial of his ashes will be held at a later time "once his parents figure out how the hell to get his ashes made into a tree and locate a nature preserve, so his tree resides in a protected area."
Garrett's family said that during the nine months of hell, he never lost his sense of humor and loved to tease doctors and nurses. He used whoopy cushions and snuck clothes pins on their clothes and even 'hazed' interns and new doctors. His family said he was forever a prankster - even in the end.