Rams fan so confident of team's victory, he's already sporting a tattoo to mark the occasion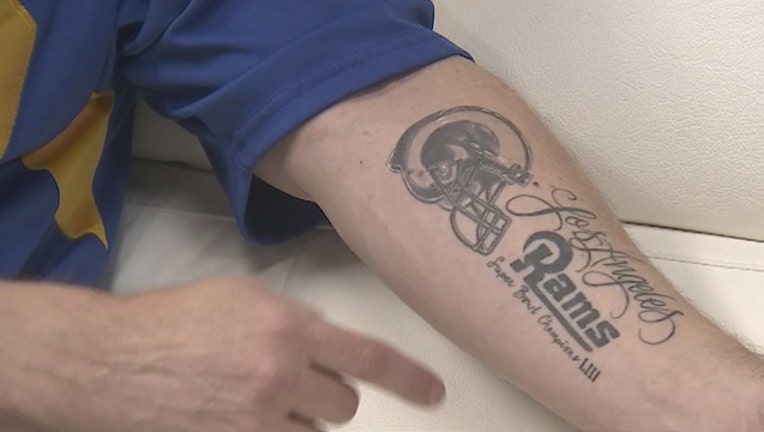 article
PHOENIX (FOX 10) -- A Valley man had high hopes the Los Angeles Rams would make it to the Super Bowl. Not only would they make it to the big game, but that the team would win.
Kenneth Dunham is so confident, in fact, he got a tattoo to mark the occasion almost six months ago!
"The Rams logo here, and then it says Super Bowl Champions 53 on the bottom," said Dunham, describing his tattoo,
Dunham has been a Rams fan since he was eight years old. and this year, he feels confident that the odds will be in his favor. Now, Dunham is just one game away from finding out if he made the right decision.
This die-hard fan says he "just had a feeling" his team would be heading to the Super Bowl, even before the season started back in August.
"I had picked the Rams to win the Super Bowl to win in June of last year, and I pinned that tweet," said Dunham.
One of Dunham's coworkers even paid for the ink on his left forearm. 
"He thought it would be a train wreck throughout the season," said Dunham. "He was just excited how it would turn out."
Dunham was taken aback by some of the reactions on social media.
"So, 90% of the social media response to it has been negative," said Dunham "Jinx. Patriots guaranteed victory now, blah blah."
Dunham says he'll be watching the big game, the same way he's been watching them all season long.
"We are going to be home sitting on our same seats," said Dunham. "We're very superstitious. Not changing a thing, no."
Dunham predicts it will be a close game, and that the Rams will win by a field goal last minute. When asked what he would do should the Rams lose, Dunham says he won't do anything, and will wear the tattoo as a badge of honor.