Rare doubled die error pennies sell for big bucks. Here's what they are, and how to find one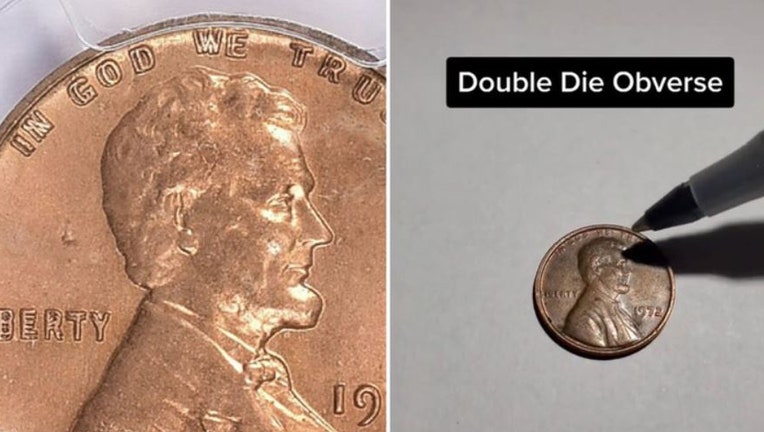 article
Old pennies that have been stamped twice during the minting process and have been circulated throughout the United States by accident have long been selling for thousands of dollars.
In January 2023, one of these rare "doubled die" pennies from a 1958 batch sold for a record $1.136 million through an auction held by GreatCollections Coin Auctions, the official auctioneer of the American Numismatic Association – a nonprofit organization that educates the public about coins, currency, medals, tokens and related objects.
The record-setting penny is believed to be one of three doubled die pennies from 1958 that "have severe doubling of letters in the motto IN GOD WE TRUST and the word LIBERTY on the front of the coin," according to a statement issued by Ian Russell, president at GreatCollections headquarters in Irvine, California.
RARE COIN SELLS FOR $4.2 MILLION 
Pennies and other coins that have been made correctly at minting facilities have been struck a single time by a metal die, the stamp that features the artistic design that gets etched onto a coin.
The U.S. Mint crafts steel dies to make coins "because it is strong enough to withstand being forced against other metals in the coin press," the government agency wrote in a step-by-step die-making report on usmint.gov.
Doubled die coins happen when a steel die strikes twice.
Blake Alma, of Lebanon, Ohio, a coin collector and founder of the coin-collecting blog CoinHub, told Fox News Digital that doubled died pennies can have doubled artwork and text that are a "minor deviation" or a "major structural anomaly."
REPELLING FLIES WITH WATER AND PENNIES: DOES THE TRICK WORK? 
"Minting errors like the doubled die penny are supposed to be inspected, seen and then destroyed by the mint," Alma explained. "Double die pennies are highly sought after by coin collectors because they are considered a rare and valuable error. The double image on the coin makes it unique and highly prized among collectors."
Alma noted that the rarity of doubled die pennies adds "an extra level of excitement and interest" that can drive up the value and demand for these copper coins.
"Coin collecting is a popular hobby, and many people are willing to pay top dollar for unique and rare pieces to add to their collections," he continued. "The fewer doubled die pennies that exist, the higher their value becomes."
  - Blake Alma
Coin collectors have purchased doubled die pennies for hundreds, thousands and tens of thousands of dollars from online and in-person auctions.
HERE'S THE REAL REASON YOU SHOULD NEVER PASS A PENNY WITHOUT PICKING IT UP
Many of the double die pennies on eBay – a popular multinational auction website – are listed in the high $1,000 and $2,000 range.
Fox News Digital reached out to eBay for comment.
Finding a doubled die penny is usually left up to chance, according to Alma. He went on to say that keeping a close eye on one's coin stash at home is the main way someone can increase their odds of finding one of these rare error coins.
Sean K. August, of New York City, an experienced coin collector and CEO of The August Wealth Management Group, a fee-only private wealth management firm, told Fox News Digital that finding a doubled die penny is "entirely random."
Though, some collectors have reportedly increased their odds of finding a doubled die penny by searching through large quantities of uncirculated coins. This has apparently been achieved by using magnifying glasses to inspect coins closely, or attending coin shows and purchasing coins from reputable dealers.
August noted that "the rarity of the particular error and the size of the minting run" drive the value of a doubled die penny.
"The price of a doubled die penny can vary widely depending on factors such as the coin's condition, rarity and provenance," said August. "Additionally, the historical significance of the error and the uniqueness of each coin further contribute to their value."
Get the latest updates on this story at FOXBusiness.com.