Selena Gomez undergoes kidney transplant due to her lupus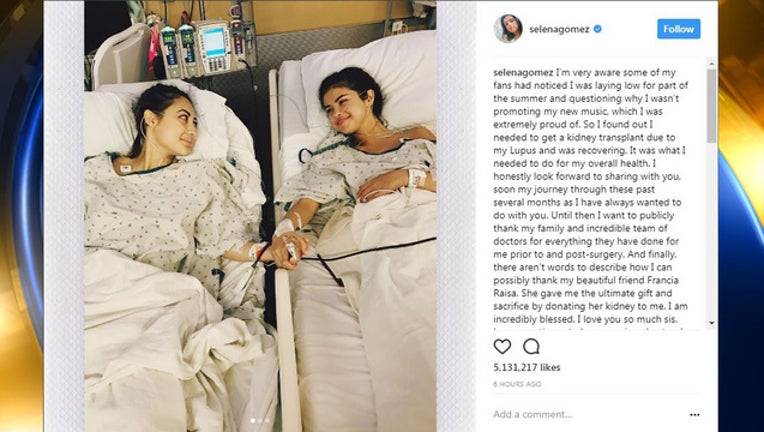 article
Selena Gomez recently received a kidney transplant from television actress Francia Raisa due her struggle with lupus, the singer revealed Thursday.
Gomez revealed in an Instagram post confirmed by her publicist early Thursday that she has been somewhat out of the spotlight this summer because she was recovering from the procedure. The 25-year-old calls the transplant "what I needed to do for my overall health."
The post didn't reveal Gomez's current condition or say where or when the procedure took place. Gomez's publicist declined to release more information.
Gomez wrote "there aren't words to describe" how she can thank Raisa, who she says gave "the ultimate gift and sacrifice by donating her kidney."
"I am incredibly blessed," she added.
The Instagram post includes a picture of Gomez and Raisa holding hands while lying side-by-side in hospital beds and another photo of a scar on Gomez's abdomen. The 29-year-old Raisa is best known for her role on the ABC Family series "The Secret Life of the American Teenager." Raisa's publicist didn't immediately return a request for comment Thursday.
Gomez revealed her lupus diagnosis in 2015 and took a break from her career last year to deal with anxiety, panic attacks and depression stemming from her battle with the disease. The disease causes fibrous tissue and inflammation of internal organs, skin rashes and joint pain. It affects women nine times more than men. Organs affected by lupus include the kidneys, heart and lungs.
Gomez got her start as a child actress before launching her music career. She appeared on "Barney and Friends" before breaking through as a teen star on the Disney Channel's "Wizards of Waverly Place." She has a massive following on social media. Her 126 million followers on Instagram are the most on the platform.