Here are the states with the most student loan debt
The cost of college has surged in recent decades – and student loan debt has risen along with it. 
According to a report by the Education Data Initiative, the average student borrows more than $30,000 to pursue a bachelor's degree, the average student loan debt has tripled since 2007.
In addition, half of the student borrowers still owe $20,000 each on outstanding loan balances 20 years after entering school.
The average overall student debt has increased by 106% or 6.6% each year over 16 years.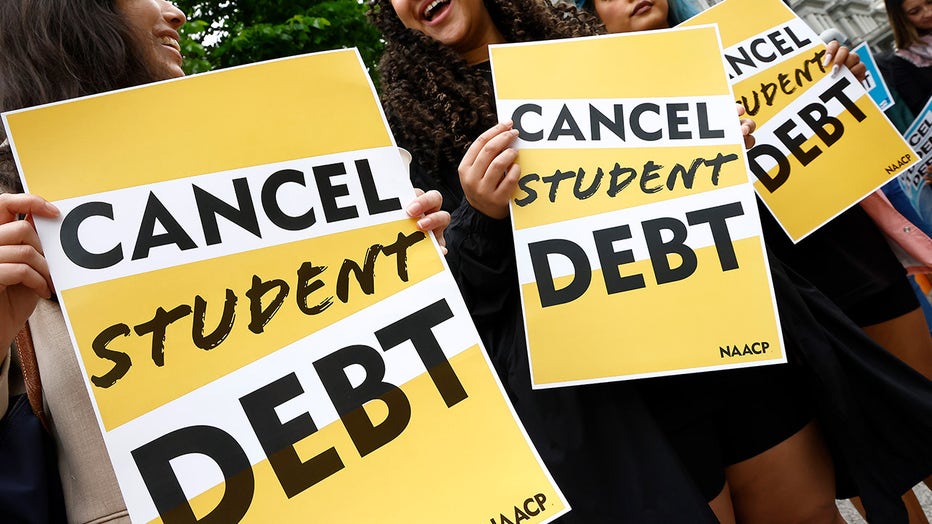 Student loan borrowers gather near The White House to tell President Biden to cancel student debt on May 12, 2020 in Washington, DC. (Credit: Paul Morigi/Getty Images)
Here's a closer look at student loan debt statistics in the U.S. today, including the average debt by state.
Average Student Loan Debt by State
The Federal student loan debt totals among the 50 U.S. states, including Puerto Rico and the District of Columbia (D.C.), average $29.0 billion per state, according to the data.
The study found that D.C. residents have the nation's highest average federal student loan debt at $54,668 per borrower. D.C. also has the highest number of indebted student borrowers per capita, with 17.2% of residents in debt.
RELATED: Student loan repayment: Nearly half of Americans with college debt to cut essential spending
In contrast, North Dakota's average federal student loan debt is $29,083, making it the only U.S. state where the average debt is less than $30,000.
Alaska sees highest increase in student loan debt
In 2021, Alaska saw the greatest increase in the average federal student loan debt per borrower – an additional $1,269 each.
Meanwhile, Wyoming's student loan borrowers diminished their average debt by $793 each, the largest nationwide decrease.
States with highest student loan debt
District of Columbia – $54,668
Maryland – $43,345
Georgia – $41,951
Virginia – $39,561
Florida – $38,931
South Carolina – $38,682
Delaware – $38,373
Illinois – $38,198
New York – $38,139
North Carolina – $38,134
Student loan interest rates restart
Student loan interest rates were halted during the COVID-19 pandemic, but interest rates kicked back in this month and payments began again on Oct. 1.
RELATED: Student loan scams surge as October repayment date approaches
While 27% of Americans with student loan debt said they'd spend less on luxury items, nearly half (47%) said they plan to reduce spending on essentials to make ends meet, according to data from MassMutual. 
This story was reported from Los Angeles.