Stories you may not have known about Aretha Franklin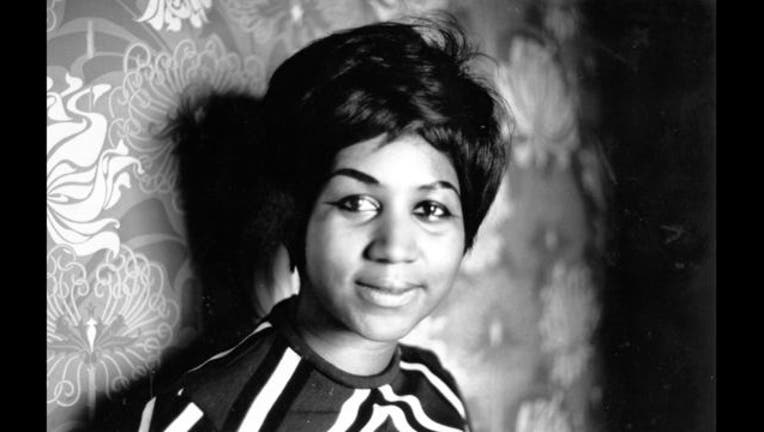 DETROIT (WJBK) - Long live the Queen of Soul. Aretha Franklin, died Thursday at the age of 76 after a battle with advance pancreatic cancer.
Although she never disclosed her illness, Aretha battled health problems over the years. FOX 2 Detroit News Anchor Huel Perkins is a close friend, and says Aretha was particularly challenged health wise over the last year but that her spirits were always high. He said the two have talked about her health over the years and said she is "a remarkable woman."
Aretha Franklin dies in Detroit, surrounded by family and friends
Aretha lived a remarkable life and was a trailblazer. This is just a snapshot of what she accomplished in her life.
1. She turned 'Respect' into a women's anthem
Aretha was not the first artist to record 'Respect' - that was Otis Redding. He recorded the song in 1965 and it was very male dominant, focusing on the role of women in a traditional 1960s household. In the song, Redding referred to women as "baby," "honey" and "little girl." The song, taking on the voice of a male, asks women to show respect toward their husbands after a hard day's work.
"Hey, little girl, you're so sweeter than honey / And I'm about to give you all my money / But all I'm askin', hey / Is a little respect when I get home / Hey hey hey, yeah now," Redding's lyrics read.
Franklin took it a few years later and ran with with it to turn the focus on women - particularly those of color. The funky, horn-led march included backup vocals from her own sisters, Carolyn and Erma.
"All I'm askin' / Is for a little respect when you get home (just a little bit) / Hey baby (just a little bit) when you get home / (Just a little bit) mister (just a little bit)," Franklin's version states.
She also added the now-iconic spelling of R-E-S-P-E-C-T. 
2. She performed for three presidents' inaugurations
Back in 1977, Democrat Jimmy Carter took the oath. Singing a medley of Duke Ellington hits was Aretha. The next time a Democrat took office, Bill Clinton in 1993, she performed for him at a pre-inauguration two days before he was sworn in.
And the third President was Barack Obama in 2009 when her hat got the majority of the intention. She sang 'My Country, 'Tis of Thee' that cold January day. In 2015, she again performed for Obama at the Kennedy Center Honors singing "(You Make Me Feel Like) A Natural Woman".
3. First woman in the Rock & Roll Hall of Fame
The Queen had 20 Top 10 Albums, dozens of million-selling singles and 18 Grammy's over 5 decades. In 1987, she was the first woman inducted into the Rock & Roll Hall of Fame. 
"I don't think there's anybody I have known who possesses an instrument like hers and who has such a thorough background in gospel, the blues and the essential black-music idiom," co-founder of Atlantic Records Ahmet Ertegun said at the time, the Rock and Roll Hall of Fame notes on its website. "She is blessed with an extraordinary combination of remarkable urban sophistication and deep blues feeling...The result is maybe the greatest singer of our time."
4. Her voice is a Michigan 'natural resource'
The year before she was inducted into the Hall of Fame, her voice was named a 'natural resource' in Michigan. 
"The golden voice of the 'Queen of Soul' is so precious to Michigan residents that in 1986 the Michigan
Legislature declared Aretha Franklin's voice to be a precious natural resource. The strength and unique quality of her voice, not to mention her inimitable sense of rhythm and styling, have set her apart from many vocalists, earning her a permanent place in music history. Her seminal works like 'Respect' and 'Natural Woman' endure as treasures of our time because they possess that ineffable quality of emotional richness that one can only define as 'soul.' " The Michigan Womens Hall of Fame said.
5. Kennedy Center Honors
In December 1994, at the age of 52, Franklin became the youngest recipient ever of the Kennedy Center Honors.
"You could say that Hillary and I went to law school with Aretha, because there was hardly a day when we didn't listen to one of her songs," President Bill Clinton said during the ceremony, per Billboard.
6. She was awarded Presidential Medal of Freedom by George W. Bush
In 2005, George W. Bush presented Franklin with the Presidential Medal of Freedom. The singer was one of 14 icons — including famous boxer Muhammad Ali, actress Carol Burnett and actor Andy Griffith — to receive the award on Nov. 9, 2005.
7. First female to earn her 100th hit on Billboard's Hot R&B chart
Franklin made history with her rendition of Adele's "Rolling in the Deep" in the fall of 2014, hitting No. 47 on Billboard's Hot R&B/Hip-Hop Songs. The song gave Franklin her 100th career title on the famed song chart.
"She's on fire and vocally in absolutely peak form. What a thrill to see this peerless artist still showing the way, still sending shivers up your spine, still demonstrating that all contemporary music needs right now is the voice. What a voice," Clive Davis told Billboard at the time.
Franklin praised Adele's music style, specifically her "21" album.
"It's what contemporary music needs more of," Franklin said of Adele's album, according to Billboard. "I absolutely loved her CD. In addition to being a great singer, she's a great writer, a deep, heavy writer. She doesn't write the usual or the norm."
8. Her last performance was for Elton John's AIDS foundation
Last November, Aretha performed for the very last time at Elton's AIDS Foundation benefit in New York. Elton wrote about witnessing her final performance Thursday morning after her death:
"The loss of @ArethaFranklin is a blow for everybody who loves real music: Music from the heart, the soul and the Church. Her voice was unique, her piano playing underrated – she was one of my favourite pianists. 
"I was fortunate enough to spend time with her and witness her last performance – a benefit for @ejaf at St John The Divine Cathedral. She was obviously unwell, and I wasn't sure she could perform. But Aretha did and she raised the roof.
"She sang and played magnificently, and we all wept. We were witnessing the greatest soul artist of all time. I adored her and worshipped her talent. God bless her. My condolences to all her family and friends. We shared the same birthday – and that meant so much to me. 
The whole world will miss her but will always rejoice in her remarkable legacy. The Queen is dead. Long live the Queen. #RIPArethaFranklin 
Elton xx"
Fox news contributed to this report.