Super Bowl LVII madness in and around Phoenix as Chiefs take the W
PHOENIX - We're following the celebrations around Phoenix as the Kansas City Chiefs took it all in Super Bowl LVII at State Farm Stadium.
Fans are also sounding off on the "glorious" halftime performance by Rihanna.
Of course, many Philadelphia fans weren't happy with Sunday's outcome as thousands have traveled from near and far, and paid a pretty penny, to see their team.
Patrick Mahomes — hobbling around on a hurt ankle — led the Chiefs downfield for the winning drive that was capped by Harrison Butker's 27-yard field goal with 8 seconds left, sealing a 38-35 victory.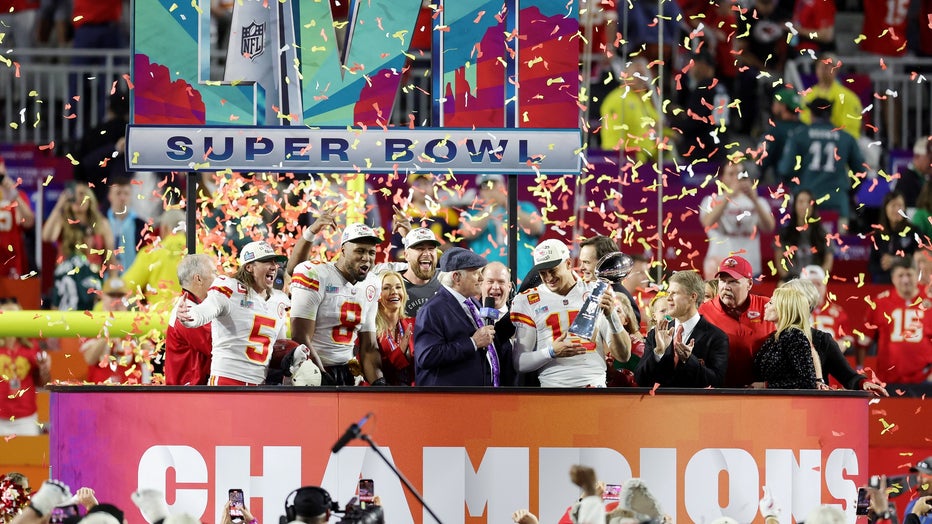 GLENDALE, ARIZONA - FEBRUARY 12: Patrick Mahomes #15 of the Kansas City Chiefs celebrates with the the Vince Lombardi Trophy after defeating the Philadelphia Eagles 38-35 in Super Bowl LVII at State Farm Stadium on February 12, 2023 in Glendale, Ariz
Glendale
If you're in green, you're likely devastated, and it seems there were a lot of eagles fans out in Glendale Sunday night.
Let's start off with how the day started. Fans were going absolutely crazy with plenty of cheering from both sides. As fans went from the lawn to inside the stadium, it became clear this was essentially an Eagles home game. Their fans were much louder throughout the game, and confident, to say the least.
After the game, however, we had a hard time finding brave enough Chiefs fans ready to cheer loud with so many devastated Eagles fans around. But, as the news settled in, they got loud and proud.
There were a lot of great gracious moments between the fans – a story of two fan bases that respect each other and hope to battle it out again next year in Las Vegas.
Halftime with Rihanna
Rihanna performs onstage during the Apple Music Super Bowl LVII Halftime Show at State Farm Stadium on February 12, 2023 in Glendale, Arizona. (Photo by Ezra Shaw/Getty Images)
No matter who you were cheering for Sunday night, there's something all fans agreed on, the halftime show retuning Rihanna was incredible.
The Fenty Beauty guru hadn't taken the stage for seven years, and, did she rise to the occasion. On another celebratory note, her reps confirmed the performer did in fact perform while pregnant with her second child.
Fans say the star's performance shined bright like a diamond.
"Oh my God, Riri!," a fan said, while busting into singing "We Found Love." I have a special place in my heart for Riri," he said. "She killed it."
Another said, "The fireworks and the whole thing with the dancers going up and down, it was beautiful."
"Very good job, no complaints."
"It was just beautiful. She ascended. Then she descended and then she ascended again. It was just all over the place. It was so overwhelming! I loved it."
"One word: Give me more. Actually, three words: Give me more."
"Favorite part? When they lifted her, and she rose in a suspension of glory."
"Rihanna killed it. I mean, that's what she does. She killed it."
Fun fact: some of her back up dancers are actually local college students.
Phoenix
Over at Margaret T. Hance Park in downtown Phoenix, tens of thousands of fans watched the match up on the biggest screen in town.
It was another first on Sunday as the NFL hosted its first ever watch party in the host city.
It was a massive party since early Sunday afternoon, with of course, many Arizona locals, but also some Chiefs and Eagles fans who flew in from their home cities of Kansas City and Philadelphia.
They wanted to spend game day among their people, but right here where all the action is in Arizona.
Some very tense moments were witnessed with a tied game at the end of the fourth quarter where it felt like you could hear a pin drop at Hance Park.
With just seconds left on the clock, Chiefs fans knew they were leaving with a win.
Continuing coverage: