Super Bowl LVII: Rihanna speaks on upcoming halftime performance
PHOENIX - Just days before Super Bowl LVII at State Farm Stadium in Glendale, Rihanna spoke for the first time ahead of her halftime performance on Feb. 12.
It's been over six years since Rihanna last appeared on a major stage. At a press conference Thursday in downtown Phoenix, the singer said she's excited to put on a great show. Rihanna didn't say much about what her performance will look like, but she said a lot of preparation is going into her show.
"The setlist was the biggest challenge. That was the hardest, hardest part. Deciding how to maximize 13 minutes but also celebrate — that's what this show is going to be. It's going to be a celebration of my catalog in the best way that we could have put it together," Rihanna said.
In addition to the show preparation, Rihanna said the performance will take a toll on her body – she gave birth to a baby boy last May. The singer said she was initially unsure about taking on the challenge of performing during a time when she was three months postpartum and wondered "should I be making major decisions like this right now? I might regret this."
"But when you become a mom, there's something that just happens where you feel like you can take on the world, you can do anything," Rihanna said. "The Super Bowl is one of the biggest stages of the world. As scary as that was, because I hadn't been on stage in seven years, there's something exhilarating about the challenge of it all."
Rihanna also said she wants inclusion and representation to be a big part of her halftime performance – paying homage to Barbados, where she grew up.
MORE: Where to find mural of Super Bowl LVII halftime performer Rihanna in Phoenix
When asked what her advice was for starting a career in the music industry, Rihanna said one of the keys to her success is to stay humble.
"Stay humble... if not the industry will make you humble," she said. "I learned this from my mom growing up in Barbados... never lost sight of that."
A nine-time Grammy Award-winner, Rihanna has 14 No. 1 Billboard Hot 100 hits, including "We Found Love," "Work," "Umbrella" and "Disturbia."
"At the end of the day, if it flops or it flies, my name has to stand by that. And so I really get involved with every aspect of anything I do," she said.
Rihanna joins a list of celebrated entertainers who have played during Super Bowl halftime shows, including Beyoncé, Madonna, Coldplay, Katy Perry, U2, Lady Gaga, Michael Jackson, Jennifer Lopez, Shakira and The Weeknd. Last year, hip-hop was celebrated with Dr. Dre, Snoop Dogg, Eminem, Mary J. Blige and Kendrick Lamar all performing.
Rihanna had previously declined to perform in the 2019 halftime show out of solidarity with Colin Kaepernick. But she has said that the timing and circumstances this time around were right for her.
Other Super Bowl LVII entertainers speak on upcoming performances
Before Rihanna spoke Thursday, Super Bowl LVII performers Sheryl Lee Ralph, Babyface, and Chris Stapleton also spoke on what to expect Sunday.
Ralph will perform "Lift Every Voice and Sing," Babyface will sing "America the Beautiful," and Stapleton will perform the national anthem.
When asked who they were cheering for on Sunday, Ralph said she was rooting for the Eagles while Stapleton and Babyface said they were backing Rihanna.
Ralph applauded the NFL for making an effort toward being inclusive and "represent all people" through the three songs.
"On a day, Super Bowl Sunday, 200 million people coming together to sit and experience it here, what a time and what a way to bring us all together," she said. "I'm very pleased and very happy to be able to be on the 40-yard line."
MORE: Super Bowl LVII: Chris Stapleton, Babyface to sing at pregame
"It's hard to believe that so many years ago, which is a lot of years ago, that I'm here to sing 'America the Beautiful,'" he said. "Back then, my mom was in the audience and she couldn't believe I was up there on the stage singing. Like the shy kid who actually got up there singing. To think of her looking at this now and see me at this moment singing 'America the Beautiful,' it's full circle."
Oscar winner Troy Kotsur will perform the national anthem in American sign language. Colin Denny will sign "America the Beautiful" and "Lift Every Voice and Sing" will be signed by Justina Miles.
Through an interpreter, Kotsur said performing makes him feel prouder to be an American. Miles said "Lift Every Voice and Sing" represents resilience.
"The national anthem never really resonated with me personally, but the Black national anthem is really inspiring and empowering," Miles said. "This song is so positive and so beautiful. You don't really hear or see it very often. There's many folks who don't even know the Black national anthem even exist. It's not only for me to share this experience with the whole world, but to really bring that empowerment to millions of Black, deaf people all over the country who've never seen that before."
Apple Music this year replaced Pepsi, which sponsored the show for the past 10 years. Terms were not announced, but analysts had expected the league to get at least $50 million per year for the rights.
Super Bowl LVII is set to kickoff at 6:30 p.m. EST Sunday and will be broadcast live exclusively on FOX.
MORE: Super Bowl LVII: How to watch, stream the NFL championship game
The Associated Press (AP) contributed to this report.
More Super Bowl headlines
LiveNOW from FOX: Streaming live events, breaking news, and stories from around Arizona and the world: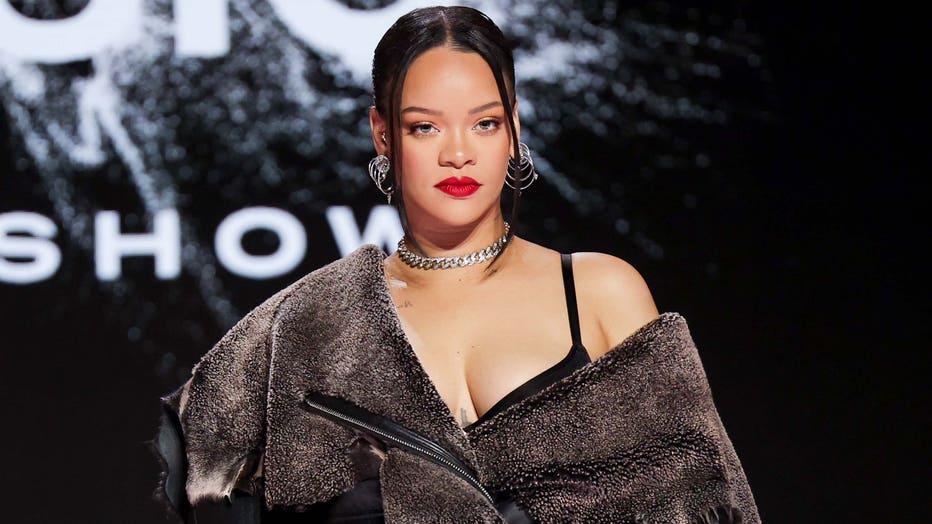 Rihanna at the Super Bowl LVII Halftime Show Press Conference held at Phoenix Convention Center on February 9, 2023 in Phoenix, Arizona. (Photo by Christopher Polk/Variety via Getty Images)